CyberGhost is an excellent choice for users looking for a reasonably-priced VPN provider that still offers a high level of service. The provider has some of the best customer support in the business, and their privacy protections are at the top of their game.

CyberGhost proves that an easy-to-use, value-priced VPN can offer comprehensive protection to its customers.
---
NordVPN is one of the top VPN providers in the industry today. The provider offers reliable connections, above-average global server coverage and solid access to blocked content.

NordVPN should be an attractive VPN option for movie lovers and gamers, as well as users looking to protect a wide variety of devices.
---
How to Choose a VPN
In this round of the one-on-one competitions, we'll see CyberGhost take on NordVPN.
In this article, I'll share the most important categories to pay close attention to when researching VPN services. I'll tell you why each service is important, share how well each provider performs in that category and make the call as to which VPN does the best job.
At the end of the article, I'll add up the scores and declare a head-to-head champion. By that time, you should have enough information to make an informed decision between the two providers.
Connection Speed
It's a connected world – everything from your tablet to your television to your oven is connected to the net. You shouldn't have to put up with your VPN slowing everything down.
We use the Speedtest.net app to test VPN connection speeds. (The app generally provides more accurate test results than the browser-based test available on the Speedtest website.)
We perform our VPN connection speed tests as follows:
We run the tests using a Windows virtual server with a gigabit Ethernet connection based in North America.
3 different users connect to 3 different VPN locations for each provider – the United Kingdom, the United States and Hong Kong – at 3 different times of day over the course of 3 days.
We use the Windows version of the provider's app, connecting using the OpenVPN protocol over UDP.
Average Connection Speed
In our latest connection speed tests, our providers were a study in contrasts. While one provider was a bit lacking in this department, the other delivered above-average download speeds.
CyberGhost delivered average download speeds of 58.22 Mbps, offering plenty of speed, easily up to handling any of your favorite online activities.
Meanwhile, NordVPN's average download speeds measured in at less than a third as fast as CyberGhost. However, their 17.90 Mbps download speeds can handle most online activities.
Please note that your download speeds will vary depending on your usual ISP-provided connection speeds, as well as your location and that of the VPN server you're connecting to.
Average Connection Speed Winner: CyberGhost
Pricing
The providers in this head-to-head are both reasonably priced, falling in the low-to-mid range area of the VPN-pricing spectrum.
CyberGhost's tariff is equal to a small combo at most fast food joints and will run you a bit more than double that when you subscribe to the month-to-month plan.
NordVPN charges a buck more per month than CyberGhost for their annual subscriptions, nearly doubling that if you opt to pay monthly.
The reason I don't provide exact pricing is because many VPN services offer special pricing on a regular basis. So, visit a provider's website to find out their current pricing.
Pricing Winner: CyberGhost
Privacy
Do you ever get the feeling that you're being watched?
Well, you should, every time you connect to the internet.
Your ISP is likely saving logs of your online activities and selling them to the highest bidder right now. When you use the free Wi-Fi while you sip your favorite overpriced coffee drink at Starbucks, the guy with the WiFi Pineapple setup is trying to steal your credit card info.
Pay close attention to a VPN provider's privacy protections. Always ask yourself the following questions:
What are the privacy laws in the provider's home country?
What type of usage logs, if any, does the provider save?
Is Bitcoin or another type of private payment option available as a subscription payment option?
Romanian provider CyberGhost isn't required by their local government to keep logs, so they don't. Simple, no? Bitcoin is a welcome payment option here.
Panama-based NordVPN also isn't required to keep any logs of users' activities by the government there, so they don't. It's that simple. They accept various forms of cryptocurrencies as payment.
Privacy Winner: Tied!
Features
When you're researching a VPN provider, it's easy to get hung up on just one or two features. That's never a good idea.
Even if you're considering a VPN for one particular reason, you'll soon learn that VPNs are an excellent tool for protecting and enhancing numerous online activities.
So, pay attention to all of the features I'll be covering here, which will allow you to make a well-considered buying decision. In each section, I'll consider how well both providers perform, and then reveal the best performing provider for that category.
Security
A VPN provider protects their users' internet connections by using encryption, which makes a user's information appear to be "scrambled" to outsiders. This is what keeps a user's online antics safe from exposure.
NordVPN offers high-level AES-256 encryption for their users' connections via OpenVPN with TCP/UDP, IKEv2/IPsec, L2TP/IPSec, PPTP and SSTP protocols. In addition, the provider offers kill switch, DNS leak and IPv6 leak protections.
They also offer DoubleVPN protection (which routes your connection through twin VPN servers) and obfuscated servers (which help hide your VPN activity).
CyberGhost also uses 256-bit encryption to protect their connections, using OpenVPN with TCP/UDP, IPSec, PPTP and L2TP/IPSec protocols. Kill switch protection, DNS leak prevention and IPv6 leak prevention are present and accounted for. Also available are options to block ads, malicious websites and online tracking.
Encryption Winner: Tied!
Simultaneous Connections
If the Partridge Family were still "travelin' together," they'd be posting on Facebook and Twitter to promote their concerts. They'd appreciate a VPN provider with a large simultaneous connections allowance.
CyberGhost allows 7 connections at once on the same set of login credentials, while NordVPN allows 6 simultaneous connections.
Simultaneous Connections Winner: CyberGhost
Streaming Support
If you're like me, you subscribe to multiple streaming services. I myself subscribe to Netflix, Amazon Prime Video, Hulu, Disney+, Apple TV+ and multiple others. (I really should make a list.)
Many of those streaming services are available only in certain countries, while those that are available around the globe restrict much of their content to specific countries. This is where a VPN comes in handy.
NordVPN unblocks many popular streaming services around the world, including: Netflix, BBC iPlayer, Amazon Prime Video, HBO, Showtime, Hulu, Disney+ and others.
CyberGhost not only unblocks numerous streaming providers, it also offers streaming-optimized servers that provide one-click access to many of those services, including Netflix, HBO, Hulu, Amazon Prime, BBC iPlayer, YouTube, ESPN+ and numerous others.
Streaming Support Winner: CyberGhost, because of its streaming-optimized servers
| | | | |
| --- | --- | --- | --- |
| Provider | U.S. Streaming Services Supported | International Streaming Services Supported | Link |
| CyberGhost | 7+ | 7+ | Visit Site |
| NordVPN | 7+ | 7+ | Visit Site |
BitTorrent Support
Peer-to-peer (P2P, also known as BitTorrenting) file sharing is a popular activity on the web. However, it's also one of the most controversial.
File-sharing technology is not illegal in itself. Many businesses use it to share files among their personnel, and some game publishers use the technology to distribute game updates.
Unfortunately, many P2P users share copyrighted files, including movies, music and apps. This activity is why some ISPs either throttle or completely block P2P activity on their networks. A VPN can be used to prevent this.
A VPN keeps your online activities safe from observation by your ISP (and other third parties), encasing your internet connection in a layer of protective encryption.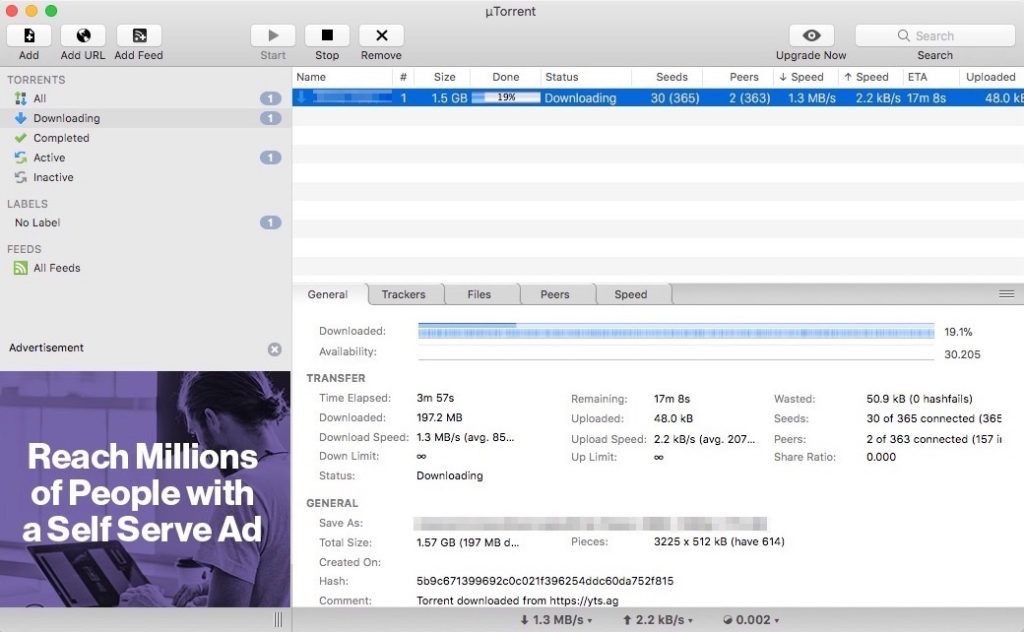 Are you one of the millions of internet users who share files via P2P/BitTorrent?
If so, you'll appreciate a VPN provider that allows you to engage in the activity while connected to their servers. Without a VPN protecting you, your ISP could block you – or worse, a movie studio lawyer could come looking for you!
NordVPN allows BitTorrenting on servers in 46 countries.
CyberGhost allows P2P activity on its servers in 30 countries. The provider's app handily indicates the countries where P2P activity is allowed.
BitTorrent Support Winner: NordVPN
| | | |
| --- | --- | --- |
| Provider | # of Countries Where VPN Allows BitTorrents | Link |
| CyberGhost | 30 countries | Visit Site |
| NordVPN | 46 countries | Visit Site |
Global Server Coverage
Global server coverage is an important component of any VPN's content-unblocking power. The more servers spread out around the world, the better access you'll have to streaming and gaming content that might normally be blocked in your area.
NordVPN has over 5,400 servers positioned in 59 countries around the world.
CyberGhost has 5,900+ servers placed in 90 countries.
Global Server Coverage Winner: CyberGhost
Multi-Platform Support
Let's see: You're sitting in front of your computer, you have a smartphone in your pocket, an iPad in your backpack and a smart TV in your living room. Need for multi-platform support from a VPN provider? Check!
CyberGhost's native app support consists of apps for Android, Android TV, iOS, macOS, Linux, Amazon Fire and Windows devices. Support is also available for a large number of routers. Browser extensions are available for Firefox and Chrome browsers.
NordVPN's native app support includes apps for the Android, Windows, macOS, Linux, Android TV and iOS platforms.The provider also offers support for Tomato and DD-WRT-flashed routers, as well as certain other brands of routers. Also available are Firefox and Chrome browser extensions.
Multi-Platform Support Winner: CyberGhost
| | | | |
| --- | --- | --- | --- |
| Provider | Platforms Supported | Browser Extensions? | Link |
| CyberGhost | 7 | Yes (Chrome, Opera) | Visit Site |
| NordVPN | 6 | Yes (Chrome, Firefox) | Visit Site |
Customer Support
Customer support is the VPN service that no one ever wants to have to take advantage of. However, it's good to know the support department will be there if you need it.
CyberGhost provides a 24/7 live chat option, a support request form and a searchable knowledge base.
NordVPN provides email support and a searchable support library, as well as 24/7 live support chat.
Customer Support Winner: Tied!
And The Winner Is…
CyberGhost proved to be the head-to-head victor this time around thanks to its superior performance in 6 VPN service categories.

CyberGhost proved to be the best in the connection speed, pricing, simultaneous connections, streaming support, global server coverage and multi-platform support categories.
As for NordVPN, it came out ahead only in the BitTorrent support arena.
The competitors tied in the privacy, security and customer support categories, where both offered top-notch protection.
While either provider will likely deliver satisfactory VPN protection, CyberGhost proved better for users with multiple devices who are looking for optimal connection speeds at a reasonable price.