TunnelBear will prove to be an attractive option for users looking for a reasonably-priced VPN provider that offers easy-to-use apps and delivers fast, well-protected connections.

However, users who enjoy streaming video or sharing files via P2P are advised to look elsewhere.
---
ExpressVPN will be alluring for users looking for top connection speeds, wide-ranging global server coverage and excellent customer support.

Movie lovers will appreciate the provider's ability to unblock numerous streaming services around the globe, while P2P file-sharing fans will enjoy access to the technology on every one of ExpressVPN's servers.
---
How to Choose a VPN
When researching a Virtual Provider Network (VPN), don't fall into the trap of making a buying decision based on just one or two factors.
Sure, a low price is great, as are fast speeds. However, a provider that offers speedy connections isn't worth a dime if it doesn't do a good job of protecting your online activities from prying eyes.
In this edition of "versus," I'll be pitting two well-known VPN providers (TunnelBear and ExpressVPN) against each other in a one-on-one contest to determine the best provider of the two. We'll take a look at the categories that should always be considered when researching any VPN.
In each category, I'll discuss how well both providers perform, declaring a winner in each battle. At the end of the faceoff, I'll check the scoresheet and declare an overall winner. By the end of the article, you'll have plenty of information to decide on which VPN best meets your needs.
Connection Speed
How many connected devices do you have in your home or office? (Go ahead and count them, I'll wait.)
Are you finished? Okay. I'm willing to bet your final count was much higher than even what you expected it to be. Computers, mobile devices, smart TVs, game consoles, internet-connected refrigerators – it all adds up.
That's why your overall online experience will suffer if you're stuck with slow connection speeds.
When we here at Pixel Privacy perform connection speed tests on our VPN contenders, we always use the Speedtest.net app to measure their download speeds. We perform the tests as follows:
We use a server running Windows that uses a gigabit Ethernet connection located in North America.
We test both providers by connecting to VPN servers in the United Kingdom, the United States and Hong Kong, at 3 different times of day over the course of 3 days.
We use the Windows version of the providers' apps for testing, and the app is configured to connect using the OpenVPN protocol over UDP.
We run the Speedtest app after connecting to each server, shutting down the Speedtest app following each test.
Average Connection Speeds
TunnelBear delivered average speeds of 51.3 Mbps in testing, making it perfect for gaming, downloading large files from servers and more.
ExpressVPN's download speeds came in just a bit better than double, averaging in at just under 107 Mbps. Those speeds also make it an excellent option for file sharing, gaming and streaming.
I will warn you that your connection speeds will most likely differ from ours, depending on your ISP-supplied speeds, your location and which servers you select.
Average Connection Speed Winner: ExpressVPN
| | | |
| --- | --- | --- |
| Provider | Avg. Connection Speed | Link |
| ExpressVPN | 106.78 Mbps | Visit Site |
| TunnelBear | 51.3 Mbps | Visit Site |
Pricing
TunnelBear and ExpressVPN sit at opposite ends of the spectrum when it comes to pricing. TunnelBear is known mostly as a low-priced provider that will even take honey as payment. Meanwhile, ExpressVPN asks a premium price for its admittedly premium array of services.
TunnelBear takes the bargain crown in this head-to-head, with an average price of less than half that of ExpressVPN.
As I mentioned earlier, when considering VPN pricing, weigh the cost against the provider's performance in the other categories we'll be examining here. That will give you a good idea of the provider's price-to-value ratio.
I don't include actual prices in my roundups, as most providers change their pricing and offer special deals on a regular basis. Be sure to visit each provider's website for their most current pricing.
Pricing Winner: TunnelBear
| | | |
| --- | --- | --- |
| Provider | Money-Back Guarantee Period | Link |
| TunnelBear | 30 Days | Visit Site |
| ExpressVPN | 30 Days | Visit Site |
Privacy
Protecting your privacy is arguably one of the most important reasons to use a Virtual Private Network. That's why it's important to ensure that any VPN provider you consider takes care to prevent any outsiders from having access to records of your online travels.
When considering the level of a VPN service's privacy protections, consider the following:
Is the provider based in a privacy-friendly country?
Does the provider keep any user activity logs on their VPN servers?
Does the provider accept Bitcoin or other privacy-enhancing forms of payment?
ExpressVPN takes full advantage of the lack of data retention laws in its home country of the British Virgin Islands, keeping no user logs of any kind. Privacy-minded individuals can also sign up for the service by using a disposable email address and paying with Bitcoin to keep their subscription identity completely incognito.
Our ursine contender, TunnelBear, is located within the borders of Canada. While the Canadian government does require Internet Service Providers to offer access to user logs, it hasn't yet been decided whether or not that law applies to VPN providers. However, TunnelBear doesn't save any customer usage info anyway, so no worries.
In addition to accepting Bitcoin for its services, the "smarter-than-the-average-bear" provider also accepts jars of honey as payment. (No, seriously. They really do.) Be sure to wipe the honey jar clean, as who knows what the Canadian rules on tracing fingerprints on payment are.
Privacy Winner: ExpressVPN, due to their privacy-friendly location.
Features
When you're deciding on a VPN provider, make sure to weigh each feature that each service offers. This aids you in making an informed buying decision.
In this section, I'll offer a look at the various features you should take into consideration when subscribing to a VPN. I'll cover each category, and at the end I'll reveal who performed best in that category.
Security
A VPN uses military-grade encryption to protect your online activities from outside observation. This also keeps your personal and business-related information safe from prying eyes.
TunnelBear uses the AES (Advanced Encryption Standard) with 256-bit keys – usually referred to as AES-256 –  with OpenVPN and IPSec/IKEv2 protocols to protect their customers' connections. The provider also offers kill switch protection, as well as the ability to make VPN traffic look like normal browser traffic.
ExpressVPN also uses AES-256. VPN protocols in the provider's apps include OpenVPN, PPTP and L2TP/IPSec. The provider offers additional protection via kill switch protection, as well as DNS leak and IPv6 leak prevention.
Encryption Winner: Tied
Simultaneous Connections
Remember how, in the connection speeds section, I mentioned how many connected devices you probably own? Well, simultaneous connections is another category that will affect your satisfaction with your VPN provider.
ExpressVPN recently increased their simultaneous users allowance, bumping it up to 5 users at once, up from the previous 3 count.
Meanwhile, TunnelBear also allows up to 5 simultaneous connections using the same user credentials.
Simultaneous Connections Winner: Tied
Streaming Support
A VPN that provides optimal access to streaming services around the globe helps you squeeze just a bit more value out of your streaming subscription and provides access to streaming services you might not usually have access to.
ExpressVPN delivers reliable access to numerous streaming services, including Netflix, Hulu, Amazon Prime, BBC iPlayer, and even the latest addition to the streaming ranks, Disney+.
TunnelBear does not provide reliable access to any streaming service, no matter where it's located. To be fair, it doesn't claim to.
Netflix Access Winner: ExpressVPN
| | | | |
| --- | --- | --- | --- |
| Provider | # of U.S. Streaming Services VPN Unblocks | # of International Services VPN Unblocks | Link |
| ExpressVPN | 7+ | 5+ | Visit Site |
| TunnelBear | 0 | 0 | Visit Site |
BitTorrent Support
If you're an internet user, peer-to-peer (P2P) file sharing is the best thing since the development of broadband. If you're a lawyer for the entertainment industry, it's the worst thing since the Hays Code.
Either way, P2P file sharing is one of the most popular activities on the internet today.
While file sharing in itself is not illegal – plenty of individuals and companies use the technology to share files – it can be used to share copyrighted materials such as movies and music. That's where users begin coloring outside of the legal lines a bit.
Whatever reason you engage in P2P file sharing, a VPN is the best way to protect your activities from outside detection and observation.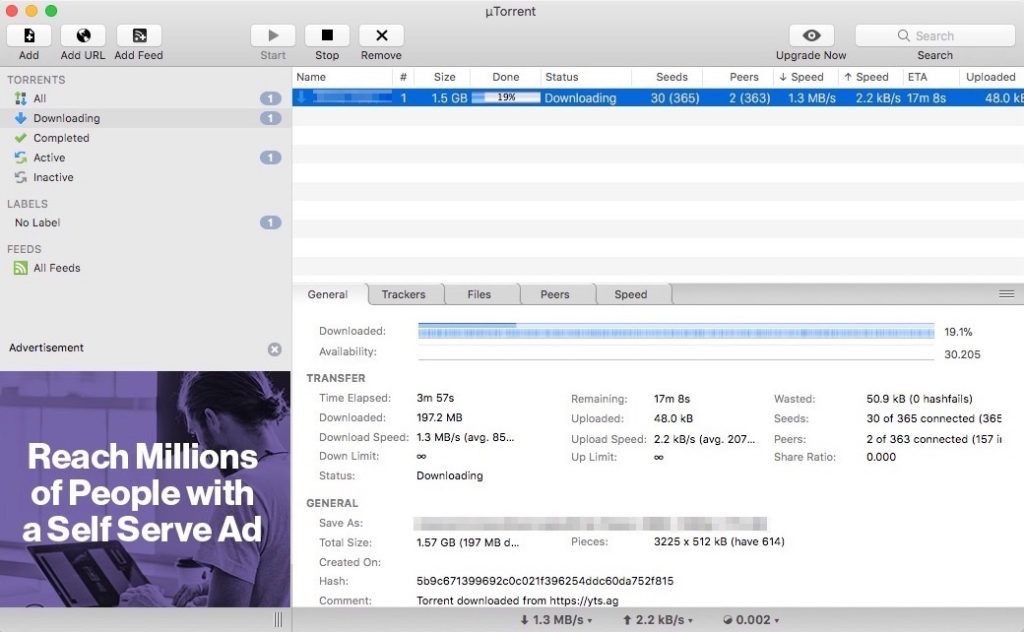 ExpressVPN allows P2P activity on all of its servers around the globe. The provider even furnishes a useful how-to guide on their website explaining how the service can protect your file sharing activities.
Unfortunately, TunnelBear is not a good option for P2P lovers, as the fuzzy provider doesn't allow P2P file-sharing activity on any of its servers.
BitTorrenting Winner: ExpressVPN
| | | |
| --- | --- | --- |
| Provider | # of Countries Where VPN Allows BitTorrents | Link |
| ExpressVPN | 94 (all of them) | Visit Site |
| TunnelBear | 0 | Visit Site |
Global Server Coverage
A VPN provider that does a comprehensive job of covering the globe with its server farms is the difference between accessing content from a particular region or being locked out of that same content.
TunnelBear does not list the number of servers they have available, but does note that they have servers located in 22 countries.
ExpressVPN has over 3,000 servers stationed in 94 countries around the globe.
Global Server Coverage Winner: ExpressVPN
| | | | |
| --- | --- | --- | --- |
| Provider | Server Count | Countries | Link |
| ExpressVPN | 3,000+ | 94 | Visit Site |
| TunnelBear | Info Unavailable | 22 | Visit Site |
Multi-Platform Support
Have you ever stopped to consider how many connected devices you have in your home or office? Your phone, your tablet, that laptop, even the television across the room are all connected to the internet.
That's why the level of app support a VPN provider offers is an important consideration.
TunnelBear's native app support is limited to the Windows, macOS, Android and iOS platforms. It offers browser extensions for the Chrome, Firefox and Opera platforms. The provider does not offer support for routers, so your other connected devices will be left to fend for themselves.
ExpressVPN offers much wider native app support, with apps for the Windows, macOS, iOS, Android, Linux, Chrome OS, Nook and Amazon Fire platforms. Browser extensions are available for the Chrome and Firefox platforms. A custom app for select routers is also available, as are setup instructions for other routers.
ExpressVPN users not in the mood for a do-it-yourself project can purchase pre-configured routers for the VPN service through the FlashRouters.com website.
Multi-Platform Support Winner: ExpressVPN
| | | | |
| --- | --- | --- | --- |
| Provider | Platforms Supported | Browser Extensions? | Link |
| ExpressVPN | 8 | Yes (Chrome, Firefox, Opera) | Visit Site |
| TunnelBear | 4 | Yes (Chrome, Firefox) | Visit Site |
Customer Support
While most VPN providers offer easy-to-use apps and deliver efficient services, there may be a time when you have a question or two. When you do, you'll appreciate comprehensive customer support.
TunnelBear's customer support options are limited to an online trouble ticket submission form and an online support library. Live support chat isn't available.
ExpressVPN's level of customer support is more of an around-the-clock affair, offering a trouble ticket submission form, 24/7 live support chat, email support and an easy-to-search support library.
Customer Support Winner: ExpressVPN
And The Winner Is…
Both providers deliver reliable VPN protection for your internet connection. However, only one provider can be the victor in this faceoff.

ExpressVPN is the champion in this battle of the VPNs, winning by a large margin, thanks to its superiority in the connection speed, privacy, BitTorrent, global server coverage, streaming, multi-platform support and customer support departments.
TunnelBear scored best in only one category, pricing. It trailed ExpressVPN in all of the other columns, excepting security and simultaneous connections, where the two tied.
For more information or to purchase a subscription, visit ExpressVPN.