You enjoy chatting on Omegle, the free online chat site. The randomness of chatting with complete strangers appeals to your quirky side. But suddenly, you find you've been banned from the chat site. WTH?
You can be banned from Omegle for what seems like random reasons. But what can you do when you've been banned? While there are various methods you can use to get yourself unbanned, the best way to get unbanned from the chat service is to use a tool you may already have handy: a Virtual Private Network (VPN).
How to Get Unbanned from Omegle
Omegle blocks users by banning the IP address used by their device. Luckily, no matter the reason that you've been banned from Omegle, you can restore your access by obtaining a new IP address.
The best way to change your IP address is to use a VPN.
I've tested numerous VPNs, and my test results have led me to ​recommend NordVPN ​​​​​​​​as the most reliable way to change your IP address and be quickly unbanned on Omegle.
NordVPN has a 30-day money-back guarantee, so you can try ​it as a risk-free proposition.
What Is Omegle?
Omegle is a free online chat website that matches users randomly, allowing them to text or video chat "one-on-one."
Users formerly had the opportunity to go into "Spy Mode," which allowed a user to act as a "spy", asking a question of two "strangers". The spy could then view the ensuing conversation between the two subjects, but could not participate in the conversation. This feature has been dropped, due to abuse by "spies".
Using Omegle doesn't require any registration, and chats are completely anonymous. However, users can indicate their personal interests, and the service will then look for other users who are into the same things.
If you don't mind a little bit of crossover with your Facebook account, you can chat on Omegle via Facebook Messenger (you do have to log in to your Facebook account to do that, though, so keep that in mind).
College students who use the service can enter their college email address (ending in .edu, .edu.XX, or .ac.XX) to verify that they're in college. They can then connect with other college students for chat sessions.
While the service monitors video chats, it does warn its users that the chat moderation is "not perfect," and they could still encounter users who will "misbehave". Omegle says it is not responsible for the actions and behavior of its users.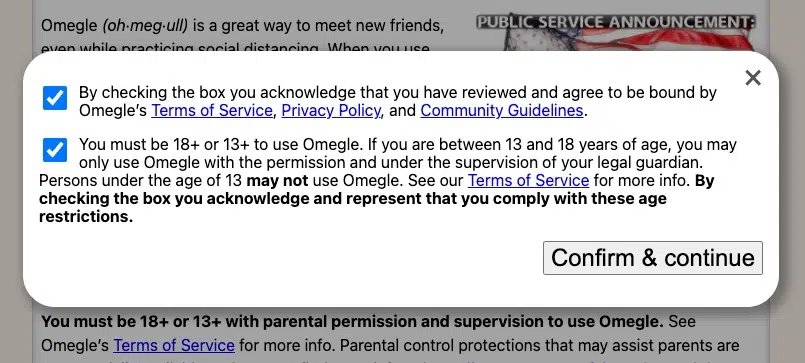 Although Omegle requires users to be 18+ years of age or 13+ years of age with the permission of a guardian, the service does not require proof of age, instead only requiring users to click a checkbox to state they are of age. As you can imagine, this doesn't stop any minor from using the service.
18-year-old Leif K-Brooks created the service in 2009. Initially, the site offered only text chat but added a video-chat feature in March 2010. Omegle does not offer an app to allow chatting from mobile devices. However, the website works just fine by using a browser on mobile devices.
Why Does Omegle Ban Users?
While Omegle blocking you can seem unexpected – that is, if you feel you haven't done anything to justify such a severe penalty – there are understandable reasons that this can happen.
Well, understandable depending upon which end of the ban you're on, I suppose.
There are 3 main reasons you can be banned from the Omegle chat service.
Reason #1: Other "Strangers" Drop You Regularly
If the strangers you get matched with drop you with noticeable regularity, Omegle will take notice and begin to get a bit suspicious.
They may think you're a troll, so no one wants to talk to you.
It's possible no one you're connecting with is your kind of person, or they're just really rude.
Still, maybe you should take a closer look at your own attitude? I'm just sayin'.
​Reason #2: Someone Has Reported You
This one can be related to reason #1, or it could be related to you saying something that offended someone – or maybe THEY were being the jerk, and they like getting other users banned.
Unfortunately for some users, Omegle has been known to err on the side of caution when believing user reports, quickly banning the accused within the blink of a virtual eye.
​Reason #3: You Violated the Service's Terms & Conditions
It's a fairly easy task to violate Omegle's Terms and Conditions.
Heck, if I'm reading it right, Omegle could ban you if you have copyrighted music, or even a TV show or movie playing in the background while you're chatting.
More likely, though, you flashed your bits and pieces at someone who didn't ask for it, and/or you were abusive or harassing in some other way.
Beauty – or "ban-ability" – is in the eye of the beholder, and if a monitor observed you, or someone complained about you doing something to violate Omegle's Terms and Conditions, you'll likely be banned.
How to Get Unbanned From Omegle
First, let's take a look at how Omegle bans a user. If users are anonymous and don't use any type of login, what's to stop you from simply logging back on if you've been banned?
Omegle tracks users via their IP address.
An IP address is a numeric label identifying your device on a network, be it a local network or the internet. This allows the system to know where to deliver data, much like the postal service uses your home's street address to deliver snail mail. (You remember snail mail, right?)
By tracking your IP address, Omegle can connect you to other users for chats.
However, they can also use that same IP address to ban you from their service, simply by blocking your IP address from connecting to their chat servers.
The best way to unban yourself from Omegle is to somehow change your IP address. You can go through a bunch of gymnastics to change your IP address by unplugging your cable modem, resetting your router, or even, in some cases, contacting your Internet Service Provider to get them to assign you a new IP address.
However, there is an easier and more secure way.
WANT TO TRY THE TOP VPN RISK FREE?
NordVPN is offering a risk-free 30-day trial if you sign up at this page. This allows you to use all of the features of the top-ranked VPN for Omegle for one month. This is great for Omegle users that want to get unbanned on the free online chat site.
There are no "gotchas" - simply contact support within 30 days if you decide NordVPN isn't right for you and you'll get your money back. Start your NordVPN trial here.
How to Use a Virtual Private Network to Get Unbanned
Readers who are familiar with my website will know that one of my favorite online tools is a VPN. VPNs make for a great way to unblock various kinds of online content and services, and Omegle is no exception.
When a user logs in to a VPN server, the VPN server assigns the user's internet connection a new IP address. By doing this, it makes it appear that the user is connected from another location, which can be anywhere, from across town to across the world.
A new IP address is especially valuable to an Omegle user who has been banned. Being able to obtain a new IP address means that a banned user can once again connect to Omegle, as the service sees the new IP address as a completely different user.
Why Else Should I Use a VPN?
In addition to supplying a new IP address to a user's internet connection, a VPN also offers a number of other great features and services. This makes a VPN a great tool to keep in your online arsenal for almost all online activities.
VPNs also make a great way to protect your internet connection, and its related online activities and personal information, by encasing it in a layer of encryption and keeping it safe from prying eyes. There are plenty of folks who'd love to gain access to your connection and info, including the government, hackers, and even your Internet Service Provider.
I always turn on my VPN connection whenever I use my laptop or mobile device on a public WiFi hotspot, like those found at coffee shops, hotels, and other public locations.
Which VPN Is Best for Keeping You Unblocked on Omegle?
While just about any Virtual Private Network will get you unblocked from Omegle, if you're going to pay for a VPN, you might as well consider all of the features that a VPN offers before making a buying decision.
I've found that one VPN provider, in particular, meets all of my needs.
NordVPN is a safe and reliable VPN provider, supplying fast encrypted connections, great multi-platform support, and comprehensive global server coverage and customer support. (Read the full review.)
Connection Speed
Since Omegle's chat service includes a video chat option, connection speed comes into play when using the VPN to connect to the chat service. You'll also appreciate a fast connection when you're streaming video or playing in the online gaming arena.
NordVPN's connections offer reliable download speeds – some of the fastest speeds in my most recent round of connection speed testing.
Multi-Platform Support
Although Omegle doesn't offer native apps and is instead a web browser-based app, multi-platform support is still an important consideration for any VPN provider you consider.
As all of the popular desktop and mobile platforms offer web browsers, you can use Omegle on almost any connected device that offers a browser.
NordVPN offers native apps for Windows, Linux, macOS (with M1 Mac native support), Android, Android TV, and iOS devices. It also offers a convenient browser extension for the Chrome, Edge, and Firefox platforms.
NordVPN allows up to six simultaneous connections on a single login.
If you need more than that, you can protect every connected device in your small business or home by setting up your router to connect to NordVPN. If you prefer a ready-made solution, you can purchase a ready-to-go router, all set for use with NordVPN, via FlashRouters.com.
Customer Support
While we'd all like to live in a gingerbread world, full of gumdrops and no technical problems, chances are that you're going to occasionally have to contact your VPN provider's customer support department with a technical or billing question. When that happens, you're going to want quick and informed responses.
NordVPN provides an excellent level of support, with 24/7 live support chat, email support, and a searchable support library available to assist you.
The support agents have always provided prompt and knowledgeable responses to my support inquiries, and the support library is easy to search and full of useful information.
Global Server Coverage
While global server coverage won't exactly rank at the top of the list of importance for Omegle users, it comes in handy when you begin to use your protected connection for other purposes.
Any VPN provider that offers excellent global server coverage will allow you to unlock video streaming services and other content that might normally be blocked in your region.
NordVPN has stationed more than 5,600 servers in close to 60 countries around the globe, providing an excellent content-unblocking solution in most of the free world.
The provider owns and operates many of its global servers, meaning third-party contractors will be unable to access your personal data.
Plus, all of NordVPN's servers are run 100% from RAM, writing no data of any kind to a physical hard drive. This ensures that all data is securely erased from any of the servers' hard drives whenever the server is restarted.
​Pricing
NordVPN is not only a great overall VPN service provider, it also provides a huge bang for the buck. The provider's multi-year subscription plans are some of the lowest-priced in the VPN industry, while their services compare quite well with the highest-priced competitors.
NordVPN offers a 30-day money-back guarantee.
NordVPN Coupon
SAVE 61% on the standard plan + 3 months free
Get Deal ›
Coupon applied automatically
Methodology for Assessing VPNs to Get Unbanned From Omegle
There are several factors to keep in mind for any VPN service provider you'll use to get unbanned from Omegle.
These are the most critical features of VPNs to consider:
Connection speed: Online activities are more enjoyable when you have a fast connection. This is especially true for video chats, such as those available to Omegle users. Slow connections will cause extended buffering and you might see your video chat freeze or pixelate. NordVPN ranked in the top five in my most recent connection speed tests.
Server network: A large server network provides easy access to content in countries around the globe. Plus, a high server count ensures that you'll enjoy better VPN performance, as a single server won't likely be overloaded by too many users at once. NordVPN has a large global server network, with multiple servers in most locations.
Value: Never pay a high price for a VPN that doesn't offer the features you require. NordVPN offers its services for a more than reasonable price.
Ease of use: VPN apps shouldn't be complicated to use. NordVPN offers easy-to-use applications for most popular devices, making it easy to quickly connect to a VPN server.
Security and privacy: VPN security and privacy protections are an important consideration as they help you avoid being monitored and tracked on the web. NordVPN offers banking-level encryption, a kill switch, and DNS/IP leak protection. Also, it never saves server logs, protecting your digital privacy.
My research doesn't end here. The factors listed above are just a small part of what I researched when conducting my comprehensive VPN testing methodology. This data-driven approach helps me to better understand the VPNs and their services, so I can recommend only those that are a good fit for my readers' needs.
What Countries Block Omegle Completely?
As you might expect, there are overly-restrictive countries that frown on the free exchange of ideas (and the showing of your mommy and daddy parts) between strangers.
Currently, I am aware of four countries that ban the use of Omegle completely. They are:
Using a VPN should help you bust through these blockades. However, exercise caution if you attempt to chat on Omegle while inside these four countries' borders, as it could possibly lead to arrest.
What Alternatives Are There to Omegle?
There are plenty of alternatives to Omegle if you're in the mood for a random online chat. Some of these online chat services present themselves as online dating chat services, while others actually seem to encourage nudity and other sexual activities among their users.
Chatroulette: This service is similar to Omegle, in that it allows users to randomly audio or video chat with other users. The service's users are overwhelmingly male and tend to skew younger. While it has been estimated that around 1-in-8 Chatroulette feeds include nudity, the site does officially prohibit "pornographic" behavior and users can be temporarily banned from the site if enough complaints are received about the user.
Tinychat: This online chat site allows users to chat via text, audio chat, and video chat. Users can create their own virtual chat room on any topic. The chat provider can deny service to users for multiple reasons, including sex, nudity, streaming copyrighted materials, and much more. The company says it will not only ban users, it will also prosecute violators.
Fruzo: This service bills itself as the "Dating Social Network". The service is intended to allow users to meet possible romantic matches and make friends via video chat. Fruzo users can be banned for "​​conduct that restricts or inhibits anyone's use or enjoyment of Fruzo," which is up to Fruzo's own interpretation.
Break Through the Omegle Blockade
While it may be easy for Omegle to ban you, it's almost as simple to get unblocked. With just a few clicks of your mouse, NordVPN is ready to protect your connection, giving you a new level of anonymity.
NordVPN offers reliable unblocking of Omegle. The provider also makes for a valuable tool to protect all of your online activities from prying eyes, accessing geo-blocked content from around the globe, and much more.
How to Get Unbanned From Omegle FAQs
How Can I Use a VPN to Get Unbanned From Omegle?
To use a VPN to get unbanned from Omegle, follow these steps:
Subscribe to a VPN.
Install the VPN's app on your device.
Select and connect to any VPN server. This assigns a new IP address to your device.
Visit the Omegle website. (You may need to clear your browser's cache and cookies first.)
Start a conversation!
Why Did I Get Banned on Omegle?
There are numerous reasons why Omegle could ban you.
If other strangers regularly drop out of conversations with you, Omegle could take notice and ban you. Someone may report you for saying offensive things. You can also be banned for flashing other users or even just for playing a copyrighted song or video in the background.
How Long Do Omegle Bans Last?
The length of an Omegle ban depends on the severity of the offense. Bans can start at seven days, stretching up to 120 days.
However, since Omegle is anonymous, it simply bans your IP address. You can get around the ban by using a VPN to obtain a fresh IP address.
Is It Illegal to Use a VPN With Omegle?
Using a VPN to connect to Omegle is not illegal, nor will Omegle ban you for simply using a VPN. However, Omegle could ban you if it finds out you're using a VPN to get around a previous ban.
Is There Any Free VPN Service That Works to Get Unbanned From Omegle?
Although there are a number of free VPN services available, not all of them will work to get you unbanned from Omegle. This is because Omegle often deliberately bans users who are using free VPNs, so certain services may be blocked.
However, there are a few that still work, so it's definitely worth trying a few different ones until you find one that works for you. Some recommended services include TunnelBear and ProtonVPN. Overall, a paid VPN service is likely to be more reliable and effective than a free one, but if you're on a tight budget then it's definitely worth giving the free options a try.
Are Omegle Chats Monitored?
There's no way to know for sure, but it's likely that Omegle chats are monitored. Omegle is a free chat site that allows users to chat anonymously with strangers. It's a popular site, and as such, it's likely that law enforcement or other agencies are monitoring the chats for criminal activity.
Does Omegle Keep a Record of Your Chat?
Yes, Omegle keeps a record of your chat for 120 days. This is so that they can review the conversations and moderate them if necessary. However, after 120 days, the chats are automatically deleted from their servers. So you don't need to worry about your chats being stored forever.
Is Adult Content Allowed on Omegle?
According to the Omegle Community Guidelines, nudity, pornography, and sexually explicit conduct and content are certainly prohibited on the moderated sections of Omegle. Any of the above can get you banned if you expose yourself to an unwilling participant. If you must engage in adult activity, Omegle will happily connect you to a third-party adult cam chat site that they likely get a cut of the revenue from.
Is Omegle Full of Chatbots?
From the online reports I've seen from Omegle users, there are plenty of chatbots on the service. There are multiple locations on the internet where you can learn how to set up chatbots for use on Omegle, so it is logical that there are chatbots. This is bound to happen on nearly any unmoderated chat service. One chatbot I found will troll users using the script from the Bee Movie or the Shrek film.
Why am I Banned from Omegle? I've Never Used It!
If you see that you've been banned from Omegle and it is the first time you've ever tried to use the service, that means someone sharing your IP address has been blocked for misbehaving. This can happen when users share an outfacing IP address, like on a home or business network. A VPN should get you around this barrier by assigning your device a new IP address.
Can I Get Unbanned from Omegle Without Changing My IP Address?
You can just try and wait the Omegle ban out. Or, you can contact the Omegle Moderation Team for information about what you were banned for and how long the ban lasts. You can then politely plea your case to the team and perhaps get your ban lifted. No guarantees though!
Is Omegle safe to use and will Omegle track me?
The short answer is yes, Omegle is safe to use and it does track users when they access its service. This fact alone may cause many people to be uneasy about using the platform. However, there are some simple steps which can be taken in order to remain anonymous and still reap the benefits of this popular chat website.
When you access Omegle, it will assign you a unique IP address that can be traced back to your device. Unfortunately, this means that anyone who knows or gains access to your IP address will have the ability to identify you on the platform. As such, it's important for users of Omegle take measures in order to protect their identity online by hiding their true IP address while interacting with others on the website.
One way you can conceal your true IP address while accessing Omegle is by utilizing one of our recommended VPNs, with NordVPN being the best for Omegle users.