You enjoy chatting on Omegle, the free online chat site. The randomness of chatting with complete strangers appeals to your quirky side. But suddenly, you find you've been banned from the chat site. WTH?
Bans from Omegle can happen for what seems like random reasons. But what can you do when you've been banned? This guide explains various ways you can get unbanned from Omegle quickly and easily.
How to Get Unbanned from Omegle
If you've been banned from the Omegle system, you can regain access by obtaining a new IP address and creating a new username.
The best way to change your IP address is to use a Virtual Private Network (VPN).
I've tested ​hundreds of different VPNs and I ​recommend ExpressVPN ​​​​​​​​as a reliable way to change your IP and quickly unban yourself on Omegle.
ExpressVPN has a 30-day money-back guarantee so you can try ​it risk-free.
Why Does Omegle Ban Users?
While getting blocked from Omegle can seem unexpected – that is, if you feel you haven't done anything to justify such a severe penalty – there are understandable reasons that this can happen. Well, understandable depending upon which end of the ban you're on, I suppose.
There are 3 main reasons you can be banned from the Omegle chat service.
Reason #1: Other "Strangers" Drop You Regularly
If the strangers you get matched with drop you with noticeable regularity, Omegle will take notice and begin to get a bit suspicious.
They may think you're a troll, so no one wants to talk to you. It's possible no one you've been connected with is your kind of person, or they're just really rude.
Still, maybe you should take a closer look at your own attitude? I'm just sayin'.
​Reason #2: You've Been Reported
This one can be related to reason #1, or it could be related to your saying something that offended someone – or maybe THEY were being the jerk, and they like getting other users banned.
Sadly, Omegle has been known to err on the side of caution when believing user reports, quickly banning the accused within the blink of a virtual eye.
​Reason #3: You Violated the Service's Terms & Conditions
It's a fairly easy task to violate Omegle's Terms and Conditions. Heck, if I'm reading it right, you could be banned if you have copyrighted music, or even a TV show or movie playing in the background while you're chatting.
More likely, though, you flashed your bits and pieces at someone who didn't ask for it, and/or you were abusive or harassing in some other way.
Beauty – or "ban-ability" – is in the eye of the beholder, and if you were observed by a monitor, or someone complained about you doing something to violate Omegle's Terms and Conditions, you'd likely be banned.
How Do I Get Unbanned?
First, let's take a look at how Omegle bans a user. If users are anonymous and don't use any type of login, what's to stop you from simply logging back on if you've been banned?
Omegle tracks users via their IP address. An IP address is a numeric label identifying your device on a network, be it a local network or on the internet. This allows packets of information to know where they are to be delivered, much like the postal service uses your home's street address to deliver snail mail. (You remember snail mail, right?)
By tracking your IP address, Omegle can connect you to other users for chats. However, they can also use that same IP address to ban you from their service, simply by blocking your IP address from connecting to their chat servers.
The best way to unban yourself from Omegle is to somehow change your IP address. You can go through a bunch of gymnastics to change your IP address by unplugging your cable modem, resetting your router, or even, in some cases, contacting your Internet Service Provider to get them to assign you a new IP.
However, there is an easier way.
Using a Virtual Private Network to Get Unbanned
Readers who are familiar with my website will know that one of my favorite online tools is a Virtual Private Network (VPN). VPNs make for a great way to unblock various kinds of online content and services, and Omegle is no exception.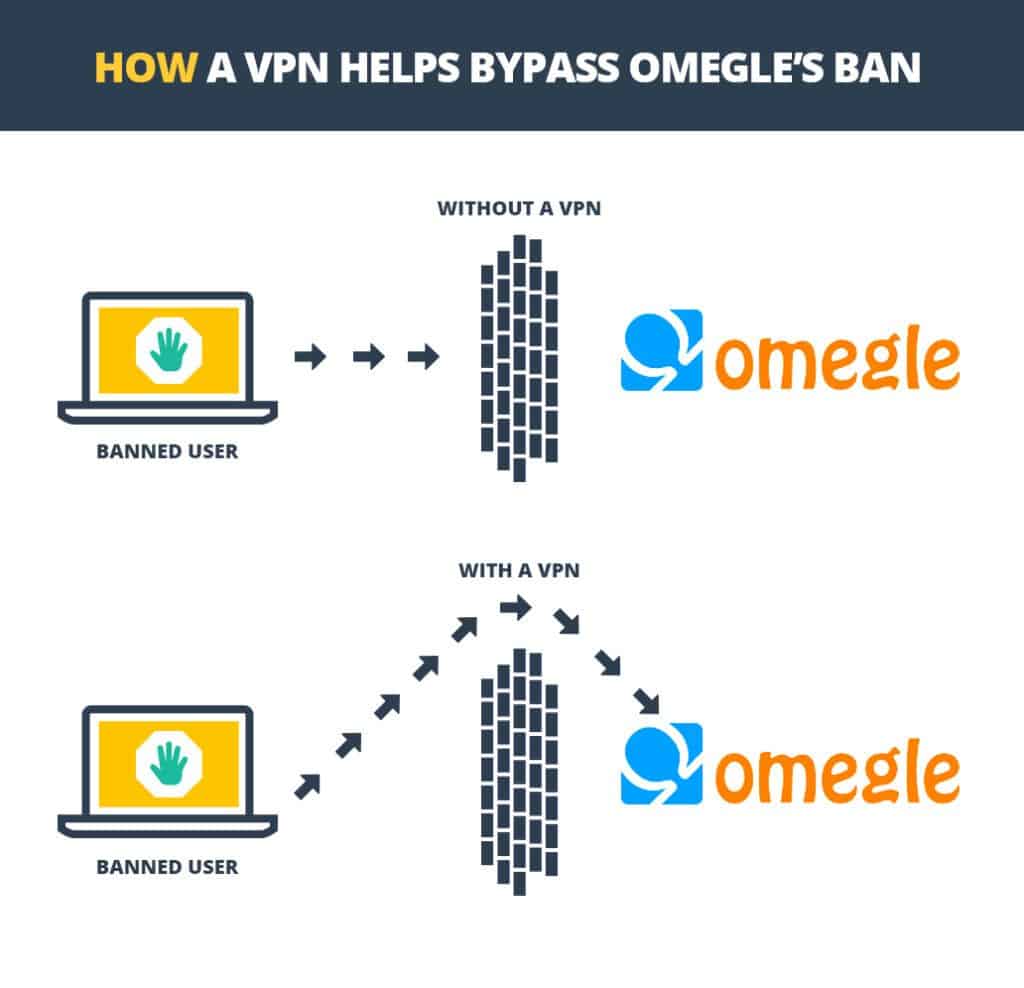 When a user logs in to a VPN server, it assigns the user's internet connection a new IP address. By doing this, it makes it appear the user is connected from another location, which can be anywhere, from across town to around the world.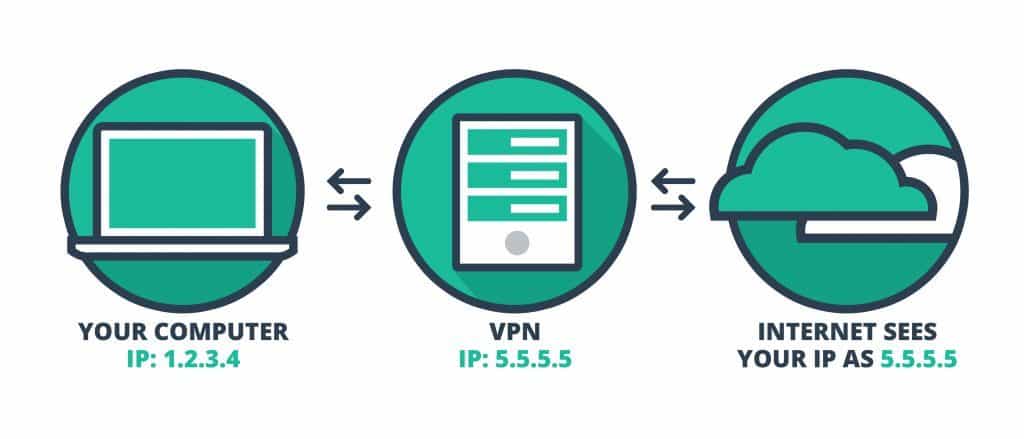 A new IP address is especially valuable to an Omegle user who has been banned. Being able to obtain a new IP address means that a banned user can once again connect to Omegle, as the service sees the new IP address as a completely different user.
How a VPN Works
In addition to supplying a new IP address to a user's internet connection, a VPN also offers a number of other great features and services. This makes a VPN a great tool to keep in your online arsenal for almost all online activities.
VPNs also make a great way to protect your internet connection, and its related online activities and personal information, by encasing it in a layer of encryption and keeping it safe from prying eyes. There are plenty of folks who'd love to gain access to your connection and info, including the government, crooks and even your Internet Service Provider.
I always turn on my VPN connection whenever I use my laptop or mobile device on a public Wi-Fi hotspot, like those found at coffee shops, hotels, and other public locations.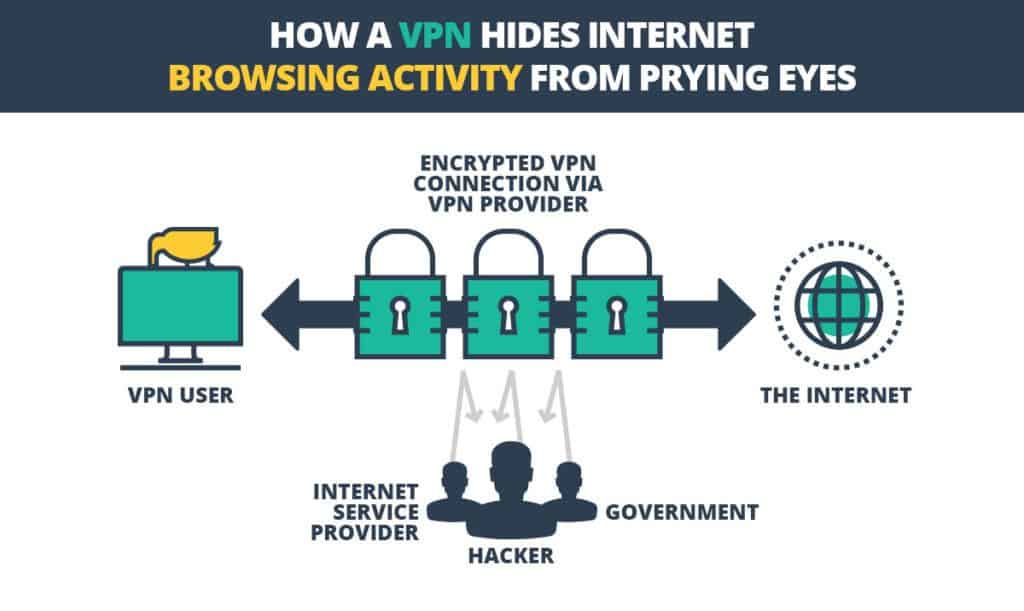 Which VPN is Best for Keeping You Unblocked on Omegle?
While just about any Virtual Private Network will get you unblocked from Omegle, if you're going to pay for a VPN, you might as well consider all of the features offered by a VPN before making a buying decision.
I've found that one VPN provider, in particular, meets all of my needs.
Methodology for Assessing a VPN for Unblocking Omegle
In order to get around Omegle's blocking, you need a VPN that is capable of unblocking Omegle, and not all VPNs are up for the job. There are some important factors to consider.
These are the considerations I kept in mind while choosing the best VPN for unblocking Omegle (ExpressVPN). 
Speed:

Speed is important, no matter what online activity you're considering performing. ExpressVPN scored among the fastest in my most recent speed tests.

Server Network:

While not the most important factor to consider for unblocking Omegle, it's helpful for a VPN to have servers in numerous locations across the globe so you have a wide range of locations to choose from to connect. ExpressVPN supplies wide global server coverage.

Value:

If the VPN you want to subscribe to doesn't ask a reasonable price for the features and functionality it offers, don't choose it. I made sure that my recommended VPN offers a great value for its offerings.

Ease of Use:

Not only should a VPN's apps be easy to use, so you don't have to struggle to perform simple tasks, apps should also be available for numerous platforms, so you have a wide choice in which device you can use to do whatever it is you're wanting to do. ExpressVPN offers simple apps for a wide variety of platforms.

Security and Privacy: Especially when you're connecting to Omegle, you want a secure connection. Always look for government-grade encryption, an automatic kill switch, DNS/IP leak protection, and preferably more. The VPN you choose should also never save logs of your online activities. ExpressVPN offers all of this and more.
Social Media: If you love Omegle, you're probably also a fan of Chatroulette, as well as Skype, Snapchat and more. I made sure ExpressVPN worked well for unblocking and accessing all of these services.
Check out more information about my VPN testing methodology.
ExpressVPN is a safe and reliable VPN provider, supplying fast encrypted connections, great multi-platform support, and comprehensive global server coverage and customer support. (Full review available here.)
Connection Speed
Since Omegle's chat service includes a video chat option, connection speed comes into play when using the VPN to connect to the chat service. You'll also appreciate a fast connection when you're streaming video or playing in the online gaming arena.
ExpressVPN's connection speeds are some of the fastest I've ever seen, ensuring you'll have an excellent experience while using Omegle.
Multi-Platform Support
Although Omegle doesn't offer native apps and is instead a web browser-based app, multi-platform support is still an important consideration for any VPN provider you consider. As all of the popular desktop and mobile platforms offer web browsers, Omegle can be used on almost any connected device that offers a browser.

ExpressVPN offers native apps for Windows, Linux, macOS, Android, Android TV, Amazon Fire and iOS devices. It also offers a convenient browser extension for the Chrome, Edge and Firefox platforms.
Up to 5 simultaneous connections are allowed on a single login. If you need more than that, you can protect every connected device in your small business or home by setting up your router to connect to ExpressVPN. If you prefer a ready-made solution, you can purchase a ready-to-go router, all set for use with ExpressVPN via FlashRouters.com.
Customer Support
While we'd all like to live in a gingerbread world, full of gumdrops and no technical problems, chances are that you're going to occasionally have to contact your VPN provider's customer support department with a technical or billing question. When that happens, you're going to want quick and informed responses.
ExpressVPN provides an excellent level of support, with 24/7 live support chat, email support and a searchable support library available to assist you. The support agents have always provided prompt and knowledgeable responses to my support inquiries, and the support library is easy to search and full of useful information.
Global Server Coverage
While global server coverage won't exactly rank at the top of the list for Omegle users, it comes in handy when you begin to use your protected connection for other purposes. Any VPN provider that offers excellent global server coverage will allow you to unlock streaming music and video content that might normally be blocked in your region.
ExpressVPN has stationed 3,000+ servers in 94 countries around the globe, providing an excellent content unblocking solution in most of the free world.
​Pricing
ExpressVPN is not the cheapest provider out there. However, the VPN service provider ensures that you receive an excellent return on investment. They offer a 30-day money-back guarantee.
ExpressVPN Coupon
Special Offer - get 3 months extra FREE
Get Deal ›
Coupon applied automatically
Break Through the Omegle Blockade
While it may be easy to be banned by Omegle, it's almost as simple to get unblocked. With just a few clicks of your mouse, ExpressVPN is ready to protect your connection, giving you a new level of anonymity.
ExpressVPN offers reliable unblocking of Omegle. The provider also makes for a valuable tool to protect all of your online activities from prying eyes, accessing geo-blocked content from around the globe, and much more.
About Omegle
Omegle is a free online chat website that matches users randomly, allowing them to text or video chat "one-on-one." In addition to chatting, users can also go into "Spy Mode," which allows a user to act as a "spy," asking a question of two "strangers." The spy can then view the ensuing conversation between the two subjects, but cannot participate in the conversation.
Registration is not required, and chats are completely anonymous. However, users can indicate their personal interests, and the service will then look for other users who are into the same things. If you don't mind a little bit of crossover with your Facebook account, you can add your Facebook likes as topics. (You do have to log in to your Facebook account to do that, though, so keep that in mind.)
College students who use the service can enter their college email address (ending in .edu, .edu.XX or .ac.XX) to verify they're in college. They can then be connected with other college students for chat sessions.
While the service monitors video chats, it does warn its users that the chat moderation is "not perfect," and they could still encounter users who will "misbehave." Omegle says it is not responsible for the actions and behavior of its users.
The service was created in 2009 by 18-year old Leif K-Brooks. Initially, the site offered only text chat but added a video-chat feature in March 2009. Omegle does not offer an app to allow chatting from mobile devices. However, the website works just fine by using a browser on mobile devices.
Omegle VPN FAQ
How Can I Use a VPN to Get Unbanned From Omegle?
To use a VPN to get unbanned from Omegle, follow these steps:
Subscribe to a VPN.

Install the VPN's app on your device.

Select and connect any VPN server. (This assigns a new IP address to your device.)

Visit the Omegle website.

Start a conversation!
Why Did I Get Banned on Omegle?
There are numerous reasons you could be banned from Omegle. If other strangers regularly drop out of conversations with you, Omegle could take notice and ban you. Someone may report you for saying offensive things. You can also be banned for flashing other users or even just for playing a copyrighted song or video in the background.
How Long Do Omegle Bans Last?
The length of Omegle bans depends on the severity of the offense. Bans can start at 7 days, stretching up to 120 days. However, since Omegle is anonymous, it simply bans your IP address. You can get around the ban by using a VPN to obtain a fresh IP address.
What is the Minimum Age to Use Omegle?
In the tiny print of the Omegle home page, you can find the following: "Do not use Omegle if you are under 13. If you are under 18, use it only with a parent/guardian's permission."
How long does it take to get unbanned from Omegle?
The length of ban in our experience can be just as random as the ban itself so there is no way to know if the ban will ever be lifted and if it is whether it will take days, weeks or months.
The good news is that you can get unbanned almost immediately. It takes just a few steps (highlighted above) to sign up to a VPN and get yourself a new IP address.