NordVPN is an excellent choice for users looking for fast connections, access to Netflix and top-notch privacy connections.

The provider is reasonably-priced and reliable, offering excellent access to streaming services and gaming servers in most spots around the world.
---
TunnelBear is an attractive choice for casual VPN users who are in search of a simple, low-priced service to protect their Wi-Fi connection at Starbucks. The provider offers a free, if limited, tier of service.

While the provider offers fast download speeds, they go somewhat to waste, due to the provider's inability to unblock streaming services.
---
How to Choose a VPN
In this round of head-to-head action, NordVPN will be battling it out with TunnelBear.
In this article, I'll take a look at the 10 most important categories of VPN service, explain why the category is vital and then reveal how well each provider scores in that particular category. I will then declare a category victor. After covering all 10 service categories, I'll add up the total score and declare an all-around champion.
By the end of the article, you'll have enough information on hand to make an informed decision as to which of the two providers best meets your particular needs.
Connection Speed
The computer you're working on right now? It's connected to the internet. That iPhone you're watching a Netflix show on? It's connected to the internet. Fast connection speeds make all of this happen.
Pixel Privacy performs our VPN connection speed tests as follows:
We use a Windows server with a gigabit Ethernet connection located in North America to test VPN providers' connection speeds.
We use the Windows version of the providers' apps, configured to connect via the OpenVPN protocol over UDP.
We use the app from Speedtest.net to test the connection speeds.
3 users in different parts of the world connect to VPN servers in 3 different locations – the United Kingdom, the United States and Hong Kong – at 3 different times of day over the course of 3 days.
We average out the results of each provider's tests to determine the final reported connection speeds.
Average Connection Speed
While both VPN providers can likely handle most of your favorite online activities, only one provider offers fast enough download speed to handle 4K video streaming.
TunnelBear was a bit of a surprise. The budget provider delivered download speeds of 55 Mbps, well up to even 4K streaming.
NordVPN delivered download speeds that were quite a bit slower, coming in at 17.90 Mbps. That said, the provider can still handle most online activities, up to and including streaming HD video.
Your results will most assuredly vary from what we measured during our testing due to several factors. Your speeds will depend on the unprotected speeds that your ISP offers, the time of day you do your speed testing, your location and the location of the VPN provider's servers.
Average Connection Speed Winner: TunnelBear
Pricing
Both of the providers this time around are reasonably priced, falling in the low-to-mid range of pricing among the VPN providers I've tested.
TunnelBear is the lowest-priced provider, offering both 1-month and 1-year options. (The 1-year option will run around the price of a medium beverage at your favorite coffee shop each month.) The provider also offers a free option, but limits free users to 500 MB of data per month. (Fun fact: You can pay for your subscription with jars of honey.)
NordVPN's pricing comes in slightly higher than TunnelBear's for their annual option, priced at around the cost of a large coffee shop drink per month. 1-month, 2-year and 3-year plans are also available.
The reason we don't list exact pricing in this section is due to VPN providers' tendency to change their pricing structures on a regular basis. Providers also periodically offer special deals, so be sure to visit a VPN service's website for current pricing and offers.
Pricing Winner: TunnelBear
| | | |
| --- | --- | --- |
| Provider | Money-Back Guarantee Period | Link |
| TunnelBear | None. Refund requests are considered on a case-by-case basis. | Visit Site |
| NordVPN | 30 Days | Visit Site |
Privacy
What's the best way to tell if you're being tracked or monitored on the internet? Answer: If you're connected to the internet, someone is monitoring you.
It seems everyone is interested in what you're doing on the internet. Whether it's your ISP tracking your online movements so they can sell that info to advertisers, or a hacker looking to steal your credit card info, people are always trying to look over your virtual shoulder.
When researching VPN providers' privacy protections, look for the following:
A provider based in a country that respects online privacy
A provider that doesn't save logs related to their users' online activities
A provider that accepts Bitcoin or other forms of private payment
NordVPN is located in Panama, where the government respects online users' privacy. Therefore, the provider isn't required to keep any records of their users' online activities, so they don't. Multiple cryptocurrency subscription payment options are available.
TunnelBear is based in Canada. While the people there are polite, their government can be a bit nosy. However, they haven't as yet passed legislation requiring VPNs to save logs of their customers' online antics. This provider accepts Bitcoin (and honey) as anonymous payment for its protected connections.
Privacy Winner: NordVPN, due to its more privacy-friendly location.
Features
When you're deciding which VPN provider is the best for your needs, don't get hung up on just one or two features. After all, the fastest VPN provider in the world is useless without comprehensive global server coverage. Instead, take a close look at every service category, so you can make an informed decision.
In this section, we'll take a look at a number of features that both providers offer. At the end of each section, I'll reveal how well each provider performs in that service category, declaring a winner for each one.
Security
When using a VPN, one of the most important categories to take a look at is how well the provider protects you while online. The provider should offer optimal encryption to keep your internet connection undercover, and it should also provide additional features to keep your online travels from detection or accidental exposure.
NordVPN's government-level AES-256 encryption protects their customers' connections via OpenVPN with TCP/UDP, IKEv2/IPsec, L2TP/IPSec, PPTP and SSTP protocols. It offers kill switch protection, malicious website blocking, DNS leak protection and Onion Over VPN.
TunnelBear's protection offers AES-256 encryption via OpenVPN with IKEv2 and IPSec/IKEv2 protocols. It lacks the PPTP, SSTP and L2TP/IPSec encryption that NordVPN offers. The provider also offers kill switch protection, GhostBear (which makes your VPN traffic look like normal browsing traffic) and DNS leak protection.
Security Winner: Tied!
Simultaneous Connections
If you have a large group of folks you want to offer VPN protection to – say, a large family or a small business – you'll want to find a VPN provider that offers a large number of concurrent connections on a single account.
NordVPN provides 6 simultaneous connections.
TunnelBear allows 5 simultaneous connections.
Simultaneous Connections Winner: NordVPN
Streaming Support
I'll bet you have more than one streaming service subscription. I know I have subscriptions to multiple services, including Netflix, Amazon Prime Video, Hulu, HBO, EPIX and many others. (The things I do for my readers.)
You'll find that most streaming services vary their content depending on the country you access them from. That's due to the contracts they sign with television and movie producers, who limit the availability of their shows and movies on a country-by-country basis.
TunnelBear does not provide reliable access to Netflix or any other streaming service. But to be fair, they don't claim to. Look elsewhere if streaming service access is on your short list.
NordVPN unblocks a goodly number of streaming services, both in the United States and in other countries. Services include: Netflix, BBC iPlayer, Amazon Prime Video, HBO, Showtime, Hulu, Disney+ and others.
Streaming Support Winner: NordVPN
| | | | |
| --- | --- | --- | --- |
| Provider | # of U.S. Streaming Services VPN Unblocks | # of International Services VPN Unblocks | Link |
| NordVPN | 5+ | 5+ | Visit Site |
| TunnelBear | 0 | 0 | Visit Site |
BitTorrent Support
Peer-to-peer (P2P) file sharing is one of the most popular activities on the internet today. However, it is also one of the most controversial. While file sharing is legal (and many individuals and companies share files), others use the technology to illegally share movies, apps and games.
Illegal file sharing has resulted in movie studios and television producers putting pressure on ISPs to block P2P activity on their networks, no matter what the reason for using the technology. Luckily, you can use a VPN to break through an ISP's blockades.
A VPN keeps your peer-to-peer file sharing and other online activities safe from detection by coating your internet connection in a layer of encryption. It also hides your actual IP address by assigning it a temporary IP address, hiding your identity and location.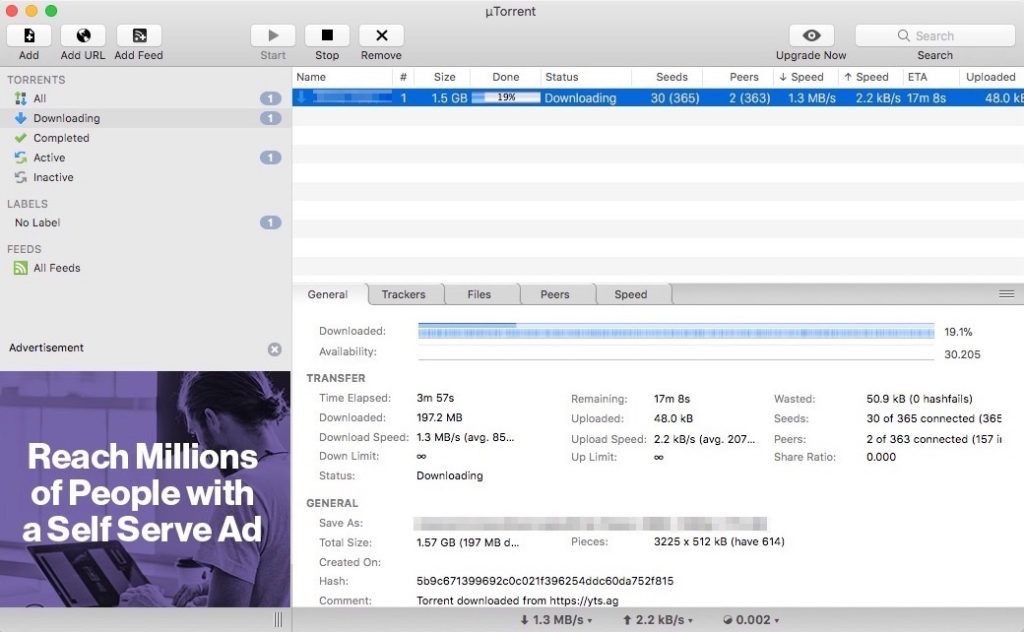 NordVPN allows P2P file sharing on servers in 46 of the countries they service.
TunnelBear allows BitTorrent/P2P activities on their VPN network, but suggests that you limit it to servers located in Canada, the U.S., the U.K., Romania, the Netherlands, Germany and Sweden.
BitTorrenting Support Winner: NordVPN
| | | |
| --- | --- | --- |
| Provider | # of Countries Where VPN Allows BitTorrents | Link |
| TunnelBear | Allows it in all countries, but suggests you use servers in 7 countries | Visit Site |
| NordVPN | 46 countries | Visit Site |
Global Server Coverage
Global server coverage is only important if you want access to streaming or gaming content and other services that might normally be blocked in your region of the world. And who doesn't want that? (Put your hand down, Eugene, that was what they call a "rhetorical" question.)
NordVPN has 5,550+ servers well spread out among 60 countries.
Meanwhile, TunnelBear's global server coverage of 22 countries is "bearly" there when compared to NordVPN's coverage.
Global Server Coverage Winner: NordVPN
Multi-Platform Support
How many connected devices do you own? I'll wager you have more than 1 (or 5). That's why you should always find out how many types of devices a VPN supports before signing on the virtual dotted line.
NordVPN's native app support covers the Android, Windows, macOS, Linux, Android TV and iOS platforms. You can also use it with Tomato and DD-WRT-flashed routers, certain other brands of routers, NAS devices, Windows Phone devices and more. Browser extensions are available for the Firefox and Chrome platforms.
"Bearly"-there also applies to TunnelBear's native app support, which is limited to the macOS, Windows, iOS and Android platforms. They do also provide extensions for the Chrome, Firefox and Opera platforms.
Multi-Platform Support Winner: NordVPN
| | | | |
| --- | --- | --- | --- |
| Provider | Platforms Supported | Browser Extensions? | Link |
| TunnelBear | 4 | Yes (Chrome, Opera, Firefox) | Visit Site |
| NordVPN | 6 | Yes (Chrome, Firefox) | Visit Site |
Customer Support
Customer support is that feature that none of us ever wants to use, but we sure are glad it's there when we need it.
NordVPN provides 24/7 live support chat, email support and a searchable support library.
TunnelBear comes up a bit short in the customer support department, as it lacks 24/7 support chat. It does offer an email support form and an easy-to-use help search function.
Customer Support Winner: NordVPN
And The Winner Is…
NordVPN vs. TunnelBear turned out to be a "Harlem Globetrotters vs. the Washington Generals" type of contest.

NordVPN was the MVP in the privacy, simultaneous connections, streaming, BitTorrent, global server coverage, multi-platform support and customer support categories.

TunnelBear took the win in only two categories: connection speed and pricing.

The providers tied in the security arena.

NordVPN took the overall one-on-one crown, with an impressive 7-2-1 tally. The provider is an excellent choice for users who are looking for access to blocked content around the globe and appreciate the ability to use the service on multiple devices simultaneously.

https://pixelprivacy.com/vpn/nordvpn-vs-tunnelbear/