PureVPN will be an attractive option for users looking for a VPN provider that supplies comprehensive global server coverage and BitTorrent support, as well as great multi-platform support, all at a reasonable price.

However, PureVPN's connection speeds are admittedly left in the dust by those of Private Internet Access, and their subscription costs are higher.
————————————————————-
Private Internet Access (PIA) will prove alluring to customers looking for fast connections in both the U.S. and internationally, and it easily grabbed the low-price annual subscription crown.

However, PIA's global server coverage suffers when compared to that of PureVPN, as does its BitTorrent support.
How to Choose a VPN
When deciding on which VPN provider is the right one for your needs, you'll be faced with important considerations.
No VPN service is a one-size-fits-all solution. All VPN providers have both good points and bad points. Always make sure to research each VPN you consider to make sure it performs well in all important categories.
In this edition of "versus," I'll be conducting a head-to-head comparison of two well-known and respected VPN services: PureVPN and Private Internet Access.
I'll explain each service category and then share how well both providers perform in that category.
In each category, I will name a victor, and at the end of the article, I will declare an overall winner based upon each provider's performance in all of the categories.
By the end of this article, you should have sufficient information on hand to know which provider is the best fit for your particular needs.
Connection Speed
It's getting fairly tough to name an electronic device that isn't connected to the internet. Your computer, mobile devices, gaming consoles – even your front doorbell are all connected to the internet.
With so many connected devices, with so much streaming and gaming and downloading (oh my!), you'll need a fast internet connection to keep up with your activities.
When we here at Pixel Privacy perform VPN connection speed tests, we use Speedtest.net. The speed tests are performed as follows:
A team of 3 of us use a gigabit Ethernet connection based in North America.
We use the Windows version of both providers' apps for testing, and the app is configured to connect using the OpenVPN protocol over UDP.
We test both VPN providers by connecting to servers in 3 different locations – the United Kingdom, the United States and Hong Kong – at 3 different times of day for 3 days.
Once all of the results are in, we calculate the average download speed.
Average Connection Speeds
Private Internet Access is known best for its low price. However, for a bargain-basement provider, it provides some surprising speeds.
PIA's average encrypted download speeds came in at a blazing 84.18 Mbps, providing plenty of bandwidth for any online activity, even 4K video streaming and sharing files.
PureVPN provides less than half of the speeds PIA does, but the provider is by no means a slowpoke. With 36.81 Mbps, PureVPN's speeds are also speedy enough to deliver an enjoyable online experience. Those speeds only come up short in the 4K streaming area, although they may be sufficient for some streaming providers.
The connection speeds you experience at your home or office will likely be different from ours, depending on your ISP-supplied speeds, so your mileage may vary.
Average Connection Speed Winner: Private Internet Access
| | | |
| --- | --- | --- |
| Provider | Avg. Connection Speed | Link |
| Private Internet Access | 84.18 Mbps | Visit Site |
| PureVPN | 36.81 Mbps | Visit Site |
Pricing
Both of our competitors are known as low-priced contenders that provide top-notch service. Of the two, Private Internet Access is the low-priced leader, in both the month-to-month and annual subscription columns.
Private Internet Access is definitely a budget-priced provider, with a month-to-month option coming in somewhere around the cost of a pound of ground sirloin, and monthly average coming in at around the cost of a pound of ground beef when you pay annually.
PureVPN's month-to-month option comes in around the price of a nice T-bone steak, dropping to a bit higher than the aforementioned ground beef price monthly when you pay annually.
Remember, don't be lured in by a VPN provider's low price. Always consider the provider's performance in all of the categories we'll take a look at in this article. While a budget price is always attractive, make sure you're getting an adequate return on your investment.
Also, VPN pricing can vary, even from day-to-day, so check each provider's website for their latest pricing.
Pricing Winner: Private Internet Access
| | | |
| --- | --- | --- |
| Provider | Money-Back Guarantee Period | Link |
| Private Internet Access | 7 Days | Visit Site |
| PureVPN | 31 Days | Visit Site |
Privacy
Privacy is arguably the most important category to consider when deciding on a Virtual Private Network provider. (After all, it's right there in the name. "Private.")
A VPN is designed to protect your online activities from observation, and should also ensure there are no lasting records of any of your online antics.
Despite being located in the less-than-privacy-friendly United States, Private Internet Access follows a strict no-logs policy on all of its servers and accepts both Bitcoin and merchant gift card balances as payment, both of which can help keep your subscription payment info undercover.
PureVPN makes its corporate home in Hong Kong, which, despite its being a Chinese possession, respects online privacy, not requiring VPNs or ISPs to collect any logs. PureVPN is in agreement with that, keeping no logs on its servers. While the provider doesn't accept cryptocurrency, they are fine with merchant gift card balances.
Keep in mind, PureVPN owns and operates all of its VPN server farms, ensuring third-party operators are kept away from your personal data.
Privacy Winner: Tied
Features
When researching VPN providers, pay attention to all features, never concentrating on just one or two. Always look for a high level of performance in all categories.
Security
Any VPN provider worth its salt will keep your internet connection protected and undercover with military-grade encryption. They'll also provide additional protections to prevent your online activities from being exposed.
Private Internet Access uses military-grade AES-256 encryption with the OpenVPN, PPTP and L2TP/IPSec protocols to protect its customers' connections. Other connection protections include kill switch, DNS leak and IPv6 leak protections. Tracker, adware and malware blockers also protect you from the bad guys.
PureVPN also uses AES-256 encryption, using OpenVPN with TCP/UDP, L2TP, PPTP and IKEv2 protocols. IPv6 leak protection and kill switch protection provide defense against the bad guys.
For more information about these features, check out my VPN Security Features article.
Security Winner: Private Internet Access
Simultaneous Connections
Users who need to protect multiple devices, or who might need to protect multiple users (like a family or small business), will be glad to know that most VPN providers will allow you to have more than one device connected to their servers at one time.
PureVPN allows up to 5 devices to be concurrently connected to their servers on the same set of login credentials.
Private Internet Access provides double the simultaneous connections, allowing up to 10 connections at any one time.
Simultaneous Connections Winner: Private Internet Access
| | | |
| --- | --- | --- |
| Provider | Simultaneous Connections Allowed | Link |
| Private Internet Access | 10 | Visit Site |
| PureVPN | 5 | Visit Site |
Streaming Support
Whether you're traveling internationally and are missing your favorite TV shows, or you're sitting at home and simply want to see what your favorite streaming service has to offer in other countries, optimal streaming support from your VPN provider is a handy feature.
At the time of this article, PureVPN claims the ability to unblock a total of 66 streaming services (10 in the U.S., 56 international). Services include U.S. Netflix, Hulu, HBO, Amazon Prime U.S., BBC iPlayer, Fox Sports, France TV and many others.
While it was impossible to test all of those providers, I was able to test a large number (including the most popular), and PureVPN proved able to access the providers I tried.
PIA doesn't claim to offer access to any streaming service (and it certainly doesn't), although you may get lucky on occasion. Still, this counts as a big goose egg.
Netflix Access Winner: PureVPN
| | | | |
| --- | --- | --- | --- |
| Provider | # of U.S. Streaming Services VPN Unblocks | # of International Services VPN Unblocks | Link |
| PureVPN | 10 | 56 | Visit Site |
| Private Internet Access | 0 | 0 | Visit Site |
BitTorrent Support
A large number of online users enjoy participating in file sharing via BitTorrent, also known as peer-to-peer (P2P) file sharing. The method is a popular (and legal) way to share files, and many individuals and companies use it to share files.
However, sharing of copyrighted materials – such as movies, music and applications – is frowned upon and illegal in most areas of the world.
Because the technology is sometimes used to illegally distribute copyrighted materials, many ISPs either throttle the connection speeds of those who share files via P2P or block BitTorrent activity completely.
The best way to prevent this is by the use of a VPN. Because a VPN hides your internet activity, your ISP can't tell what you're doing, and therefore can't block your BitTorrent activity.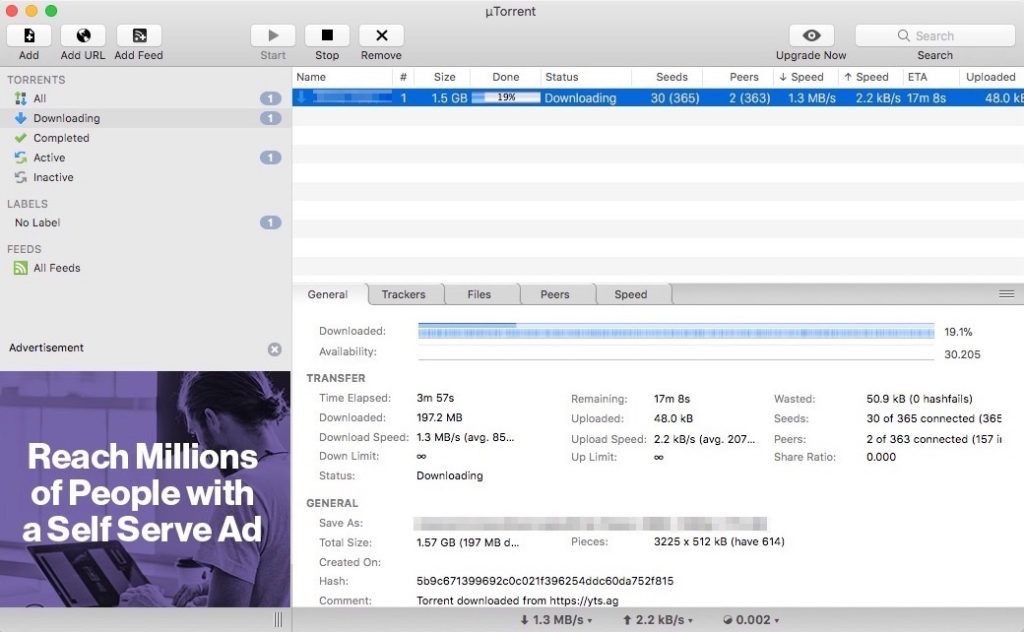 Private Internet Access allows users to engage in P2P activity on all of its servers. As a PIA customer support agent told me, "we don't know and don't care what you do with our service."
PureVPN also allows P2P file sharing, but restricts it to servers located in over 86 countries. Still, although that doesn't cover PureVPN's entire server network, it still outnumbers PIA's whole network.
Neither provider keeps any type of server logs whatsoever, meaning your file sharing activities are never tracked, no matter which provider you opt to subscribe to.
BitTorrenting Winner: PureVPN
| | | |
| --- | --- | --- |
| Provider | # of Countries Where VPN Allows BitTorrents | Link |
| PureVPN | 86 | Visit Site |
| Private Internet Access | 32 (all of them) | Visit Site |
Global Server Coverage
Global server coverage is another important consideration, especially for users looking for a way to unblock content from other parts of the world.
Many streaming providers, such as Netflix and Hulu, restrict their content to viewing in specific areas of the world. By using a VPN server in another part of the world, you can easily access content intended only for viewing in that part of the world.
PureVPN has over 2,000 servers located around the globe in 140+ countries. While the provider's actual server count is less than that of its fellow contestant, they have them located in nearly 5 times as many countries. More countries equals more content-unblocking opportunities.
Private Internet Access has nearly 1,400 more servers in its network (over 3,390), but has them stationed in just 32 countries. That means you may not have access to content in some of your desired locations.
Global Server Coverage Winner: PureVPN
| | | | |
| --- | --- | --- | --- |
| Provider | Server Count | Countries | Link |
| PureVPN | 2,000+ | 140+ | Visit Site |
| Private Internet Access | 3,390+ | 32 | Visit Site |
Multi-Platform Support
It seems as if nearly every device in your home or office is connected to the internet, including computers, streaming devices, mobile devices – even bathroom scales are connected to Wi-Fi (but you won't find me getting on one of those things).
This makes wide-ranging native app support an important factor when considering a VPN service.
PureVPN offers apps for the macOS, Windows, iOS, Linux, Android, Android TV and Amazon Fire TV platforms. An applet is available for use with DD-WRT routers, and manual setup support is available for other types of routers. Browser users can make use of convenient Chrome and Firefox extensions.
Private Internet Access' native app support includes apps for Windows, macOS, iOS, Android and Linux devices. You can also use the service with DD-WRT- and Tomato-enabled routers. Chrome, Firefox and Opera browser extensions are also available.
Both providers offer pre-configured routers through FlashRouters.com.
Multi-Platform Support Winner: PureVPN
| | | | |
| --- | --- | --- | --- |
| Provider | Platforms Supported | Browser Extensions? | Link |
| PureVPN | 8 | Yes (Chrome, Firefox) | Visit Site |
| Private Internet Access | 5 | Yes (Chrome, Firefox, Opera) | Visit Site |
Customer Support
You'll find that most of the best VPN providers offer reliable service and easy-to-use apps.
However, things do go wrong from time to time, or you may simply have a question about how best to use the VPN service. That's when easily-accessible customer support comes in handy.
PureVPN provides support at any time of day, delivering 24/7 live support chat, a trouble ticket tracking system and a searchable support knowledge base.
While Private Internet Access offers reliable customer support, it isn't available around the clock. While the provider offers an online ticket support form, email support and a searchable support library, it lacks a live support chat option.
Customer Support Winner: PureVPN
And The Winner Is…
While either of these competitors offer reliable VPN service, we must declare a winner. The envelope, please…
While Private Internet Access jumped out to a substantial lead, PureVPN came on strong in the later stages, winning the last 5 categories to nose out PIA at the finish line.

PureVPN scored the best in the streaming support, BitTorrent support, global server coverage, multi-platform support and customer support categories. It pulled off a tie in the privacy department.
Meanwhile, although Private Internet Access scored well in the connection speed, pricing, security and simultaneous connections columns, those are all the points it could rack up.
PureVPN is your best option in this faceoff, offering excellent global server coverage, P2P support, top-notch customer service and acceptable connection speeds, making it an excellent choice for protecting and enhancing your online activities.