TunnelBear will lure those users in the market for a low-priced service that offers fast connection speeds and good customer service.

If you don't engage in file-sharing activities, the provider may be a good match, but P2P users will need to look elsewhere.
CyberGhost will prove attractive to users looking for fast connections, top-notch privacy protection and excellent global server coverage.

The provider is a value-priced, easy-to-use VPN service that offers excellent multi-platform support and BitTorrent flexibility.
How to Choose a VPN
The decision as to which VPN provider is the right one for you is not one to be taken lightly. While it's only natural to look for a bargain, what you really want to be looking for is comprehensive online identity and security protection.
This "versus" article will pit two well-known VPN providers, TunnelBear and CyberGhost, against each other in a head-to-head contest for VPN supremacy.
I'll share with you the categories that you should consider when making a VPN-buying decision and how well each provider performs in a particular category.
For each category, I'll report a score for each VPN service and declare a winner. At the end of the article, I'll tally up the scores and declare an overall victor. By then, you should have enough information to know which provider is a good fit for your online needs.
Connection Speed
I'm betting you might have a problem naming any electronic device that you use that isn't connected to the internet. Your computer, mobile devices, gaming consoles, Blu-ray players and more are connected to the net.
With multiple devices connecting at once, if your VPN provider doesn't offer fast speeds, your online experience will suffer.
When Pixel Privacy performs VPN connection speed tests, we use Speedtest.net. The speed tests are performed as follows:
We use a gigabit Ethernet connection based in North America.
A team of 3 of us test both VPN providers by connecting to servers in 3 different locations – the United Kingdom, the United States and Hong Kong – at 3 different times of day over the course of 3 days.
We use the Windows version of both providers' apps for testing, and the app is configured to connect using the OpenVPN protocol over UDP.
Average Connection Speeds
TunnelBear must've invested a few bucks into infrastructure, as their connection speeds have improved slightly since my last testing.
TunnelBear has increased its download speeds, hitting an average of 51.3 Mbps. Speeds like that can easily handle any of your favorite online activities.
CyberGhost also offers fast download speeds, with an average download speed of 58.22 Mbps, which is also easily up to any online activities you may enjoy.
Please note that your connection speeds will likely differ from ours, depending on your ISP-supplied speeds.
Average Connection Speed Winner: CyberGhost
| | | |
| --- | --- | --- |
| Provider | Avg. Connection Speed | Link |
| TunnelBear | 51.3 Mbps | Visit Site |
| CyberGhost | 58.22 Mbps | Visit Site |
Pricing
CyberGhost and TunnelBear can both be considered low-to-mid-priced when compared to other VPN providers.
TunnelBear is the winner when it comes to both month-to-month and annual subscription pricing. If you opt to pay each month, you'll lay out the equivalent of a breakfast at most diners. An annual subscription will cost you half as much per month.
A CyberGhost month-to-month subscription will run you a few bucks more than the monthly option from TunnelBear, dropping to nearly half the monthly rate when you opt for a yearly subscription. (A 3-year plan drops the monthly rate to just a few bucks per month.)
When considering a VPN's pricing, keep in mind the provider's performance in the other categories we'll be looking at, so you can consider the provider's price-to-performance ratio. Plus, VPN providers regularly run all sorts of special deals, so be sure to check each provider's website for current pricing.
Pricing Winner: TunnelBear
Privacy
Privacy is important in today's online world. It seems as if the web is fraught with peril at every turn. (I always wanted to use the phrase "fraught with peril"!)
Make sure any VPN provider you consider does its best to keep your online activities and your payment information as undercover as possible.
Always consider the following when researching any VPN service's privacy protections: Is the provider located in a privacy-friendly country? What type of activity logs, if any, does the provider retain? Do they accept privacy-enhancing payment methods, such as merchant gift cards or Bitcoin?
CyberGhost is based in Romania, where there are currently no laws requiring VPN providers to retain any user logs. The provider takes full advantage of this, keeping no logs related to their customers' online activities. The provider accepts Bitcoin as payment.
TunnelBear is based in Canada. The Canadian government does require Internet Service Providers to respond to government requests for information about their users. However, there hasn't yet been a court test to determine if VPN providers can be considered ISPs. Therefore, TunnelBear does not store information about their users' online activities.
The provider accepts Bitcoin as payment for its services. It also accepts "jars of honey," but the jury is still out on whether or not honey is a privacy-friendly payment method, likely due to the presence of sticky fingerprints on the honey pot.
Privacy Winner: Tied
Features
When considering any VPN provider, weigh every feature the provider offers. This will help you make an informed decision, preventing you from being afflicted by the dreaded "buyer's remorse" down the line.
Here, in the Features section, I'll be taking a look at the various features that buyers should always consider when making a VPN-buying decision. I'll also clue you into how well both providers performed in each category.
Security
A VPN uses encryption to apply a layer of protection onto your internet connection, keeping your online activities and any personal or business-related information you transmit safe from prying eyes.
CyberGhost and TunnelBear both use banking-grade encryption with OpenVPN and IPSec/IKEv2 protocols to protect their customers' internet connections.
TunnelBear offers kill switch protection, IPv6 and DNS leak prevention, and a proprietary "GhostBear" feature that makes your VPN traffic appear to be normal internet traffic.
CyberGhost offers kill switch protection, as well as DNS and IPv6 leak prevention. It also offers blocking of ads, malicious websites and online tracking. In addition, it can force a website to serve up HTTPS versions of their webpages if available.
Check out my VPN Security Features article for more details about these features.
Encryption Winner: Tied
Simultaneous Connections
VPN providers that allow more than one connection to their servers at a time offer a better value for the money, particularly for users who own more than one connected device, have a family or run a small business.
CyberGhost is the multi-user leader this time around. The provider allows up to 7 simultaneous connections using the same set of login credentials.
TunnelBear allows up to 5 simultaneous connections using the same user account. While that's still a decent number, TunnelBear loses.
Simultaneous Connections Winner: CyberGhost
Streaming Support
Streaming video from providers such as Netflix, Hulu, Amazon Prime Video and BBC iPlayer is one of the most popular, if not the most popular, online activities today.
While one of our competitors does an excellent job of unblocking streaming services, the other doesn't even attempt to unblock any streaming providers.
CyberGhost offers access to a large number of streaming providers, including Netflix, YouTube TV, HBO Now, Amazon Prime Video and many others in the U.S. It also offers access to numerous other streaming services around the globe thanks to its streaming-optimized servers.
Meanwhile, TunnelBear will flat out admit that the aim of their service is to help you stay private and secure online. If you do gain access to a streaming service while using TunnelBear, consider it a fluke, and don't expect that access to always be available.
Streaming Support Winner: CyberGhost
| | | | |
| --- | --- | --- | --- |
| Provider | # of U.S. Streaming Services VPN Unblocks | # of International Services VPN Unblocks | Link |
| CyberGhost | 17 | 23 | Visit Site |
| TunnelBear | 0 | 0 | Visit Site |
BitTorrent Support
Numerous individual and companies use P2P file sharing legally. However, arguably the best-known use for P2P file sharing is the sharing of copyrighted materials, such as music, movies and games.
Whatever reason you make use of P2P file sharing, a VPN is an excellent way to keep your sharing activities protected from prying eyes.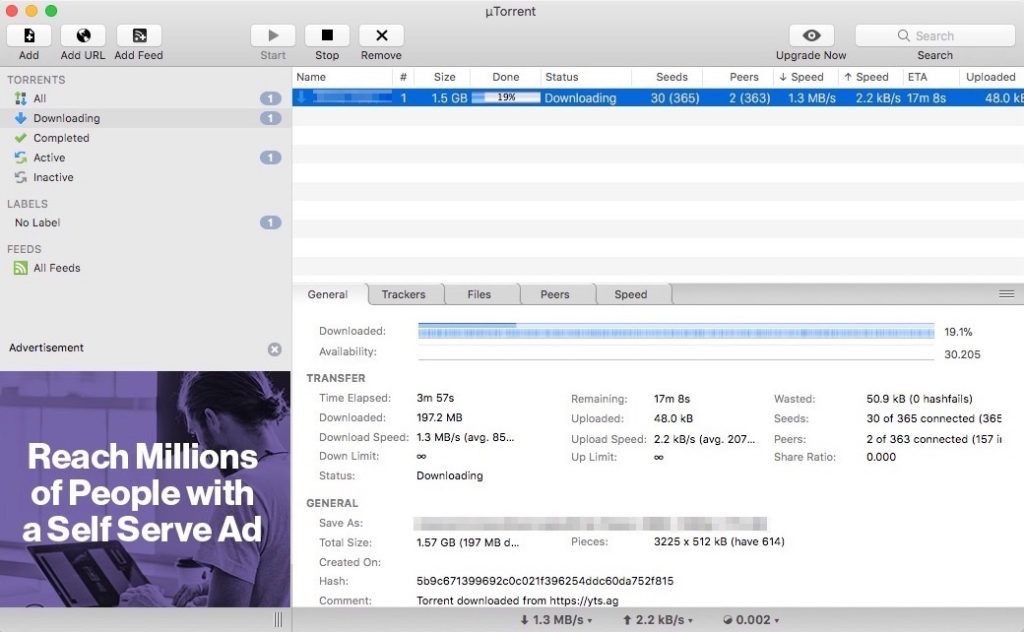 CyberGhost allows BitTorrent activity while connected to its VPN servers, but it restricts the activity to servers in 31 countries. Luckily, the CyberGhost app allows you to simply click on the "Torrent Anonymously" option, and the app takes care of finding a server the activity is allowed on.
Sadly, TunnelBear does not share its competitor's enlightened attitude on P2P file-sharing activity. This VPN member of the Ursidae animal family does not allow P2P on any of its VPN servers.
BitTorrenting Winner: CyberGhost
| | | |
| --- | --- | --- |
| Provider | # of Countries Where VPN Allows BitTorrents | Link |
| CyberGhost | 31 | Visit Site |
| TunnelBear | 0 | Visit Site |
Global Server Coverage
Comprehensive global server coverage can be the difference between being able to access content from other countries that might normally be blocked and being locked out of that same content.
At the time of this article, CyberGhost has 4,900+ servers stationed in 59 countries around the globe.
TunnelBear does not specify how many servers they have available, but does note that they have server farms located in 22+ countries.
CyberGhost is obviously the best bet between the two providers for users looking for flexibility when seeking access to geographically-blocked streaming or gaming content.
Global Server Coverage Winner: CyberGhost
| | | | |
| --- | --- | --- | --- |
| Provider | Server Count | Countries | Link |
| CyberGhost | 4,900+ | 59 | Visit Site |
| TunnelBear | Unavailable | 22+ | Visit Site |
Multi-Platform Support
The number of connected devices we use seems to increase with each passing day. A VPN with comprehensive multi-platform support is a valuable tool to protect your connected devices from outside influence.
TunnelBear provides native apps for the macOS, Windows, iOS and Android platforms. It also offers browser extensions for the Firefox, Opera and Chrome platforms.
Sadly, TunnelBear offers no support for routers. This could leave your Internet of Things-capable appliances and other connected devices, such as set-top streaming boxes and gaming consoles, unprotected.
CyberGhost offers native app support for the macOS, Windows, iOS, Linux, Android, Android TV and Amazon Fire device platforms. It also can be manually set up on some routers. Chrome and Firefox browser extensions are available.
CyberGhost users can purchase plug-and-play routers for the VPN service through the FlashRouters.com website.
Multi-Platform Support Winner: CyberGhost
| | | | |
| --- | --- | --- | --- |
| Provider | Platforms Supported | Browser Extensions? | Link |
| CyberGhost | 7 | Yes (Chrome, Firefox, Opera) | Visit Site |
| TunnelBear | 4 | Yes (Chrome, Firefox) | Visit Site |
Customer Support
You'll find that most major VPN providers' apps and services are efficient and easy to use. However, there may be times when you need a bit of help to set things right. That's when you'll appreciate quality customer support.
TunnelBear offers only an online trouble ticket submission form and an online support library. When submitting a question via the form, I usually received a reply by the next day at the latest. The support library proved to be a valuable resource when looking for answers on my own.
CyberGhost's customer support includes live support chat (not 24/7), a trouble ticket submission system and an online support library. The support library was easy to use and provided knowledgeable answers when I did a bit of digging on my own.
However, the online trouble ticket response time was less than spectacular, taking four days for me to receive an answer to a simple question concerning the use of the service in China. (Answer: It's unreliable, and depends on the ISP being used.)
Customer Support Winner: CyberGhost
And The Winner Is…
This game of one-on-one proved to be a bit of a blowout, as CyberGhost outperformed TunnelBear in almost all categories.

CyberGhost won in the connection speed, simultaneous connections, streaming support, BitTorrent, global server coverage, multi-platform support and customer support categories.
CyberGhost scored a tie with TunnelBear in the security and privacy categories.
TunnelBear was able to score points in the pricing category. Users looking for BitTorrent and streaming support or wide multi-platform support should definitely look elsewhere.
CyberGhost makes for a good option when looking for a reasonably-priced VPN provider that offers access to P2P file sharing, as well as blocked streaming content and gaming servers.