Do You Use Google Products?
Let's face it: Google makes it easy to use its applications and services.
First, they're free. Second, they're available wherever you are through almost any internet-connected device. Third, well: we're back to the free thing again.
But why are Google's products and services free? How can they afford to maintain all of those servers and pay all of those thousands of employees by giving away their products? To be honest, Google doesn't give away their products – or, at least, their most important product.
You.
Google's entire business model is based on their users' willingness to allow the online search company to watch their every online move. Google apps and services monitor how you use them, where you go online, and more.
Google uses the information they glean to build a user profile, which is then used for various purposes, not the least of which is targeted advertising.
Even if you're not logged into your Google account, they can still track your travels around the web via:
Google AdSense.

They're responsible for many of those banner ads you see generously included on most websites you visit.

Google Analytics.

This aids website owners in determining which content their visitors access the most, how long they spend reading it, and other site usage information. The information also helps track the performance of Google AdSense campaigns.
In addition to using the information they collect from you to sell advertising, the company has also been known to share the data they collect with government agencies. (Can you say PRISM, boys and girls? I knew you could.)
Black Hat or White Hat, Google Is Watching You
It's not just privacy aficionados who are concerned with Google constantly looking over their shoulders. Online marketers who run Private Blog Networks (PBNs) need to take care when using Google products too.
These crafty marketers operate networks of sites. They can be used to influence search engine results by directing backlinks to other sites in their portfolio. This is perfectly legal, though Google doesn't like this as they claim it can push lower quality sites to the top of the rankings.
Exactly how Google looks for and identifies PBNs isn't clear, as they have obviously chosen not to divulge that information. However, many PBN owners go to extreme lengths to keep their lists of sites hidden from google.
This often includes not using Google products to store data about their sites – thus hiding the fact a site is part of a controlled network. If you are in the Search Engine Optimization (SEO) game and you use PBNs, you'll want to look at some of the alternatives we have listed below.
How to Get Away From Google's All-Seeing Eye
The best way to avoid being tracked by Google is to avoid it altogether.
But, is that really possible?
Well, I honestly don't believe you can ever truly fly entirely under Google's radar, but you can make it much tougher for them to monitor your online antics.
Three great ways to make it tougher for Google to track you are:
Deleting your Google accounts and their

associated data

.

Using privacy tools, such as Virtual Private Networks (VPNs), privacy-enhancing browsers, and other anonymizing tools.

Finding alternative apps and services to use in place of Google's apps and services.
This article will focus on the 3rd option. In the following sections, I'll examine alternatives for Google services and apps.
In the table below, you'll see the Google apps and services I'll be covering, along with alternatives for each Google product listed.
Clicking the links in the table will take you directly to the details about each product, providing information about each alternative and handy links to where you can learn more about each one.
Google Products
Alternatives
Google Search

DuckDuckGo

StartPage

searX

Gmail

Google Chrome Browser

Google Drive

Synqion

Tresorit

Nextcloud

Google Analytics

Google Play Store

Google Maps

OpenStreetMaps

Maps

hashtagOsmAnd Maps & Navigation

hashtagHERE WeGo

Youtube

HookTube

Other Youtube Alternatives

Google Calendar

Google "Office" Apps

Google Docs

Zoho Writer

Microsoft Word Online

Google Sheets

Zoho Sheet

Microsoft Excel Online

Google Slides

​Zoho Show

Microsoft PowerPoint Online
Google Alternatives

​Google Search Alternatives
When you use Google Search, whether it is to search the entire internet or the website you're browsing, Google records plenty of information about you.
The search giant records the search terms you enter (yes, even those searches), your IP address, the browser you're using, and more.
They also add a unique identifier to store in a cookie that is saved to your browser. And those aren't the good kind of cookies, like your Grandma made, either – these cookies are text files that can be used to track you as you move around the web.
Even if you use the incognito feature of Chrome when you browse – and we'll cover why you shouldn't be using Chrome in just a bit – Google can still track you.
All incognito mode does is allow you to browse the web without locally storing data on your computer that could be retrieved later. Google can still identify you by your IP address.
Luckily, there are valid alternatives to Google Search, some that even return Google Search results, but none of which track or record your searches. I'll share 3 of my favorites in this section.
DuckDuckGo
DuckDuckGo is my Google Search alternative of choice.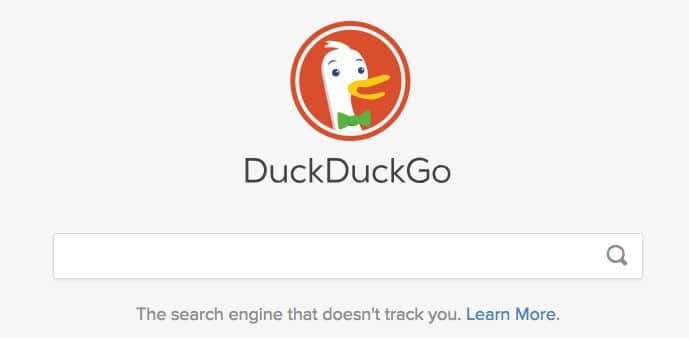 The site doesn't track you or use targeted ads. They don't collect or share any personal information, and they don't track your travels around the net. The search provider's Privacy Policy is available here if you'd like to review it.
DuckDuckGo's search results are created from a compilation of over 400 sources, including Yahoo, Bing, Wikipedia, its own web crawler, and many more (but not Google).
​StartPage
StartPage claims to be the world's most private search engine. While StartPage's search results are pulled from Google's search results, they do not track you or save any information about your searches.

The company says that they don't return personalized search results, which Google and Bing do, limiting the results StartPage presents in search results. On the bright side, StartPage doesn't track you as Google and Bing do.
StartPage's Privacy Policy is available here for your bedtime-reading pleasure.
​searX
searX is a "metasearch" engine, which returns results from other search engines. However, it does not store information about its users.

The site doesn't share anything with a third party and doesn't track you in any way. searX is open source, so users can examine it to see how it all works.
Gmail Alternatives
Although Gmail is free and easy to use, it's perhaps the worst email service you could use if you're concerned about online privacy.
Every bit of your email usage, every message, every attachment – you name it, it's monitored by Google.
When you're logged into Gmail, Google can track your online activities, just the same as they do when you use their search engine – but worse. Google gets access to your private and business life, as well as your personal contacts.
There are more private alternatives to Gmail, but you may have to pay to use them. With real currency, too, instead of your privacy. I'll share 2 of my favorite private email services in this section.
StartMail
StartMail is a private email service from StartPage, which was discussed in the Search Engine section.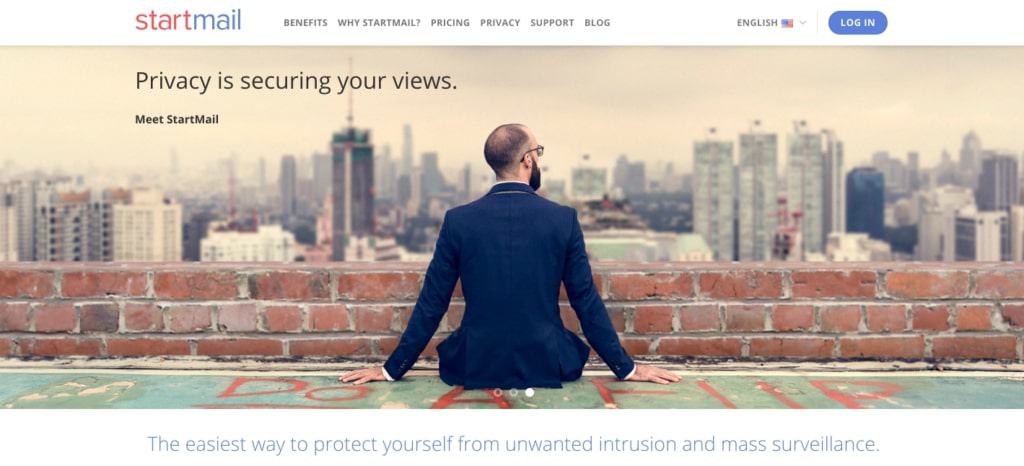 For $59.95 per year, per mailbox, the service offers 10 GB of storage for emails and attachments. (By charging for their service, they remove the temptation to sell advertising or your personal info.)
The email service also offers one-click PGP encryption, disposable email addresses, and custom email addresses, and it can be used in your favorite email programs, including Outlook, Apple Mail, and others.
The Dutch company complies with the European Union's General Data Protection Regulations (GDPR), which are some of the strictest privacy laws in the world.
Tutanota
Tutanota is a private email service based in Germany, and as such, also complies with GDPR rules. Your encrypted mailbox is accessible from a web browser, as well as apps for iOS and Android.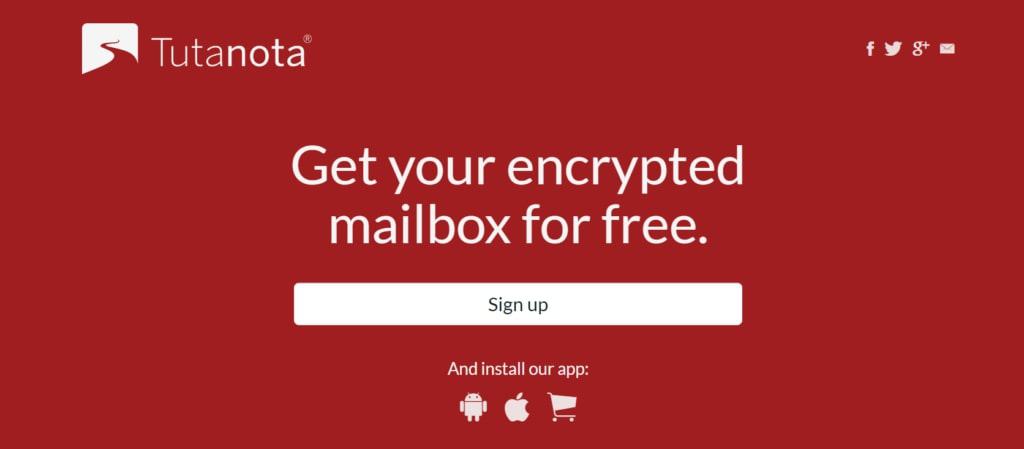 Tutanota mailboxes – including your email and address book – are protected by end-to-end encryption. Email is only unencrypted when you access it in your browser or on your mobile device.
The service uses symmetric (AES-128) and asymmetric (AES-128/RSA-2048) encryption to protect your information. Encrypted emails sent to an external recipient require a password for encrypting and decrypting the email.
Tutanota offers a free level of service for private users, which includes 1GB of storage and limited search features. Paid plans run $1.00 and up, with expanded storage, custom domains, unlimited searches, and more.
Google Chrome Browser Alternatives
Google Chrome is an easy-to-use browser and is arguably the most popular browser in use today.
The browser allows users to install Chrome extensions, which add new features to the browser, making it extremely customizable. However, Google Chrome also monitors your every move.
What does Google Chrome send back to the Google Mothership?
Every URL you enter in the Chrome address bar

. That's what enables that cool "auto-completion" feature that keeps you from having to enter the entire address.

When you're online.

It connects back to Google on a regular basis to download a fresh list of malicious URLs, so it will know which sites to steer you away from. While that's helpful, it means that it's regularly informing Google that you're online.

What you're up to online.

If you log into Google Chrome using your Google ID, it sends info on all of your browser tabs, browsing history, and bookmarks back to the mothership. That makes it incredibly easy to use Chrome on multiple devices. It also makes it incredibly easy for Google to keep track of what you're up to.
In addition, Google Chrome loads websites in the background without your permission. Chrome also connects to websites in the background before you finish typing in the address – without your explicit consent.
In this section, I'll cover two of my favorite privacy-enhancing browsers and explain why they're a better fit for security-conscious web surfers.
First, you might notice that I don't include Mozilla's Firefox, Apple's Safari, or Microsoft's Internet Explorer or Edge browsers. None of those browsers were originally developed to provide privacy, and all of them are too easy to track on the web.
Tor Browser
Although the Tor Browser is based on Mozilla Firefox, it has been modified to be privacy-friendly without the need for any plugins or extensions. The browser is available for the Windows, macOS, Android, iOS, and Linux platforms, and it can be run from a USB drive on the desktop platforms.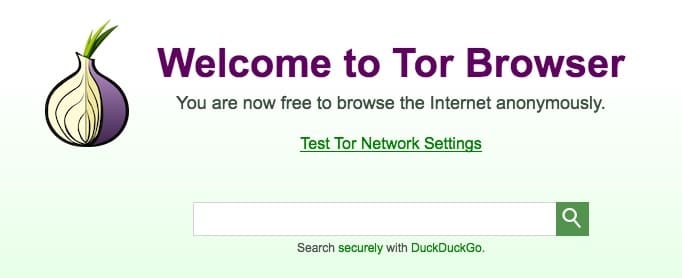 Tor Browser anonymizes a user's browsing traffic by running it through a distributed network of relays run by volunteers around the world.
This obfuscates your IP address, preventing any third parties from tracking your activities back to you and your actual location from being detected, while also allowing access to blocked websites.
Tor Browser isn't the best solution for users who enjoy video streaming – or any other activities that require a fast connection. The browser slows down your online activities due to the fact that your traffic is being relayed through other connections.
More information and download links for your device are available at the Tor Project website.
Brave Browser
The Brave browser is based on the open-source Chromium browsing engine, the same engine Google's Chrome is based on, but Brave is configured to automatically block ads, trackers, malware, ransomware, and spyware.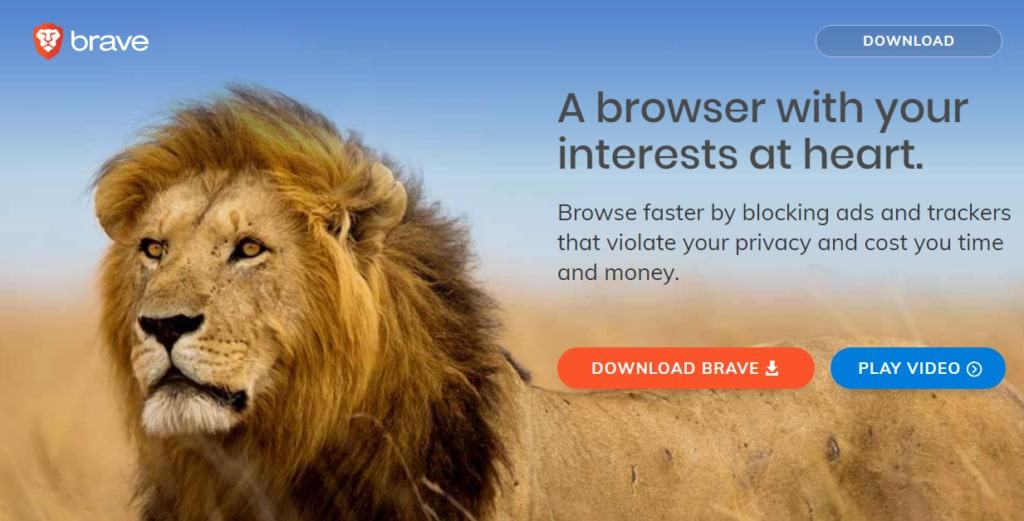 Brave blocks ads and trackers by default, which has the pleasant side effect of allowing you to browse faster and more safely. The company claims pages load 2x faster on the desktop and up to 8x faster on mobile devices.
Users can customize their Brave setup, setting up protections on a per-site basis or a browser-wide basis. The browser is available on the Linux, macOS, Windows, iOS, Amazon Fire, and Android platforms.
For more information or to download the Brave browser for your device, visit the Brave website.
Google Drive Alternatives
While Google takes steps to protect the data stored on their Google Drive cloud servers, some folks are not comfortable with storing their files on Google's servers.
If you're looking to make a clean break from Google, you'll need to find a safe place to store all of those documents, photos, videos, and other files you've saved to your Google Drive.
That means that, short of starting your own cloud storage business, you're going to have to trust someone else to store and protect your information for you.
The cloud storage services I'll highlight in this section all offer secure, user-friendly, and business-oriented storage services. They do an excellent job of storing and protecting your precious data.
Synqion
Synqion is a sync-and-share storage solution that allows users to share files in complete privacy.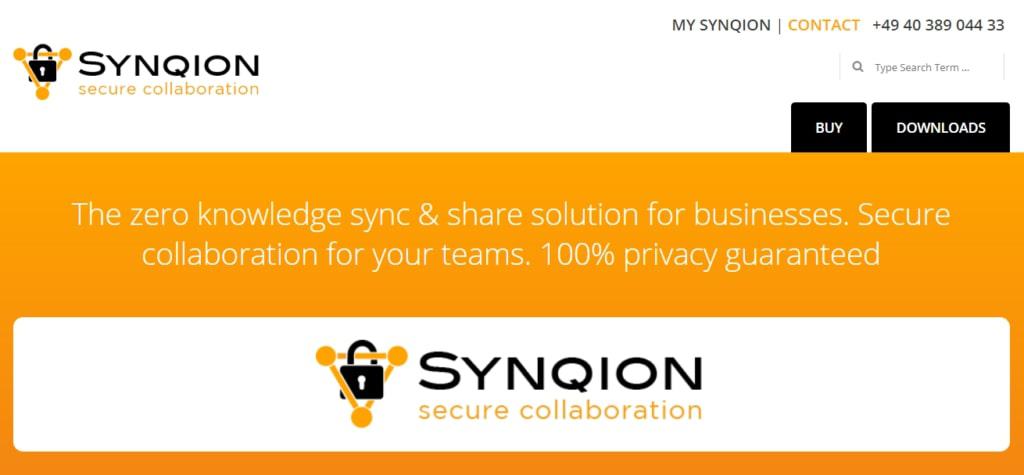 All files are uploaded with end-to-end encryption. The company says that no one, including Synqion, will have access to the stored data except for authorized users.
The storage solution offers apps for Windows, Mac, iOS, and Android devices.
Pricing ranges from $59.50 for 1 year of 10GB storage for 1 user, to $1,990 for 1-year of 1000GB storage for 25 users. A "Personal Server" license is available for use on the user's own hardware for $89.00. A free 30-day trial is available.
​Tresorit
Tresorit is an easy-to-use, Switzerland-based cloud storage solution.

Tresorit protects files with end-to-end encryption, securing files from the user's computer to the authorized user's computer or mobile device.
As is normal for end-to-end encryption, the company says they have no access to their users' data, as only the customer has the unique keys to decrypt the files.
Tresorit follows Swiss privacy laws, which are some of the strictest around. Their servers are based in European Union countries, so they comply with GDPR rules.
The company offers a $30-per-month "personal" storage solution for single users and also offers plans for small businesses (2 to 9 users) for $20 per month, per user.
Their "Business" plan provides storage for 10+ users for $12 per month, per user and an "Enterprise" plan for 100+ users for $24 per month, per user. A 14-day free trial is available.
Nextcloud
Nextcloud is a self-hosted file-sharing solution, making it an attractive option for users who are not comfortable with storing their files on a public cloud storage solution like Google Drive.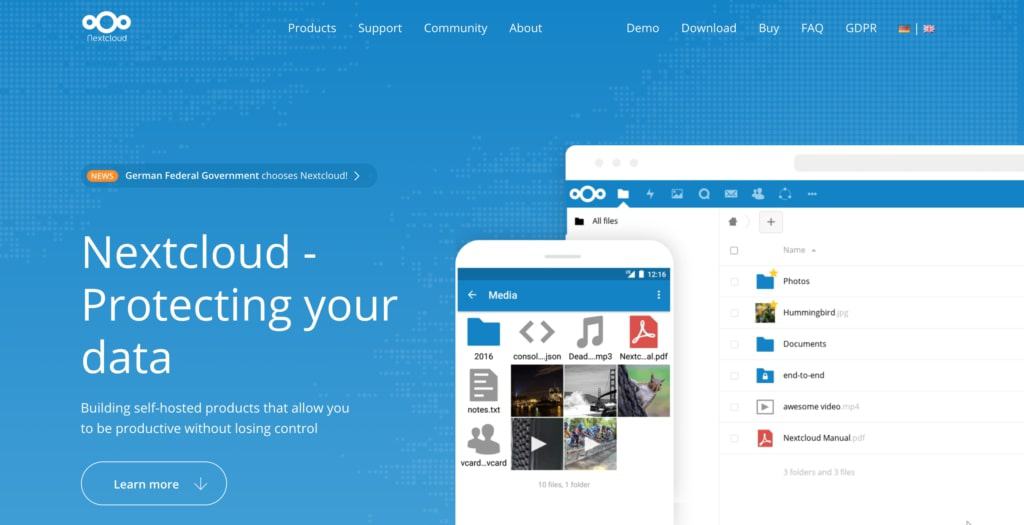 The Germany-based company's Nextcloud Files storage solution is GDPR-compliant. The end-to-end encrypted file storage system is also HIPAA-compliant, making it a good option for users in the healthcare industry.
Nextcloud allows users to securely send and receive files from customers, partners, and other external users via password-protected public links and the user's private "cloud."
Nextcloud Server is available as a download for installation on your own hardware, as are pre-installed solutions. A free trial is available, and pricing will vary according to the customer's requirements.
Google Analytics Alternatives
Google Analytics is a web traffic analytics service that tracks and reports a website's traffic. It's the most popular website analytics solution available today.
In addition to web analytics, Google also offers Google Analytics for Mobile Apps, which is an SDK that developers can use to gather app usage data from Android and iOS apps.
Google Analytics is undoubtedly useful for website owners, as it lets them know which content on their website is popular and which content is not, allowing them to better understand what their visitors want to see on the site. However, as is true with much of Google's offerings, some users worry that Google Analytics' monitoring goes a bit too far.
Luckily, there are alternatives to Google's analytics service, which offer information about what users are doing online, yet they still respect their (and your) privacy.
Matomo
Matomo (formerly known as Piwik) is a free, open-source analytics solution that can be self-hosted for free on the user's own server or cloud-hosted on Matomo's servers, starting at $7.50 per month. (A 30-day free trial is available.)

The self-hosted version of Matomo has been downloaded over 3.6 million times. The system allows site owners to gather information about their users, such as visits, downloads, goal conversion rates, keywords, and more. It does this without sharing the data with third parties, such as, let's say…Google.
Matomo is GDPR-compliant, so it can be set to automatically anonymize data so that personal data is never processed. Users who do decide to process personal data can still comply with GDPR guidelines.
Fathom Analytics
Fathom Analytics is an open-source, free analytics solution that's available on GitHub.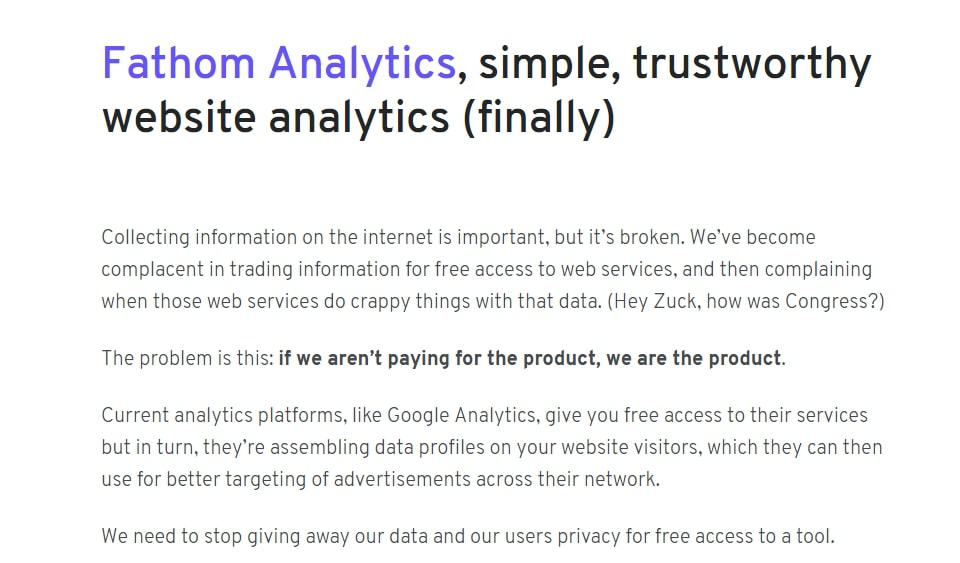 Fathom is a self-hosted solution. However, the company plans to eventually offer a paid-for version that will be hosted on their servers.
The company says Fathom Analytics offers users 100% ownership of their data and tracks traffic on a website without collecting personal data. Fathom offers a breakdown of the top content on your website and also indicates who the top referrers are for traffic to your site.
Google Play Store Alternatives
If you're trying to get away from all things Google, it's a bit difficult to do so if you own an Android device. After all, the Android mobile operating system is developed by Google.
But don't worry, bunkie – it's still possible to put at least one or two layers of separation between your device and the Google mothership.
Perhaps the best way to avoid directly connecting to the Google Play Store is to use F-Droid, which will then allow you to install the Yalp Store app on your device. The Yalp Store app allows users to download apps from the Google Play Store directly as APK files.
F-Droid
F-Droid is an installable listing of FOSS (Free and Open Source Software) apps for Android devices. The F-Droid client allows users to browse, install and track app updates for their device.
F-Droid doesn't track you or your device, and they don't monitor which apps are installed. Users aren't required to have a Google Play account to use the app, as all of its apps are in the FOSS repositories, which are not connected to the Google Play Store
The Yalp Store
The Yalp Store allows users to download apps directly from the Google Play Store.
The apps are downloaded as APK files and are saved to your device's default download folder. From there, the APK files must be installed manually to the device to run as an app, which can be done from the Yalp Store app.
The Yalp Store connects to the Google Play Store via a built-in account, so users do not need to own a Google account to download apps. (There's that layer of separation from Google that you were looking for.)
Google Maps Alternatives
Google Maps is a great way to navigate and find various locations, such as stores, hospitals, and – even more importantly – the nearest Taco Bell.
However, whenever you use it, Google learns your location and collects usage data, recording where you are and where you're going. (Google would like you to pick up a Burrito Supreme, by the way. Please and thank you.)
Luckily, there are some solid Google Maps alternatives available for desktop and mobile users.
OpenStreetMaps
OpenStreetMaps is a collaborative project designed to create a free, editable map of the globe. Over 2 million registered users collect data via manual surveying, GPS devices, aerial photography, and other freely available sources, allowing everyone to benefit from each others' contributions.
OpenStreetMaps is available via web browser to users of desktop platforms, including Windows, Linux, and macOS users.
The data generated by the OpenStreetMaps project has been used by a number of services, such as those provided by Apple, Flickr, MapQuest, Craigslist, and many others.
Maps (Android Only, Available Via F-Droid)
Maps offers Android device users access to offline versions of OpenStreetMap maps. The app is only available for Android devices and is available through the aforementioned F-Droid app.
OsmAnd Maps & Navigation
OsmAnd Maps & Navigation is available for Android, iOS, and Android Fire mobile devices. The app works completely offline and uses open-source information from OpenStreetMap (for the maps) and Wikipedia (for points of interest).
HERE WeGo
HERE WeGo is available for Android and iOS devices.
It can use real-time maps for any location or downloadable maps for select countries, including the U.S., the U.K., Germany, France, Spain, and others.
YouTube Alternatives
Google-owned YouTube is an excellent source of productivity-killing video entertainment. I'd be willing to bet that very few of my readers haven't gotten lost down the video rabbit hole at least once, only to look up hours later, bleary-eyed and wondering where the morning went.
In addition to mindless entertainment, YouTube is also chock full of videos offering product reviews, instructional videos, product advertisements, and more.
Sadly, if you're on YouTube, you're being tracked by Google. Plus, you're subject to their global content restrictions (although you can get around those by using a VPN).
While there aren't a large number of YouTube alternatives around, there are a few.
HookTube
HookTube allows users to view YouTube videos without being added to a view count and lets users bypass geographical and age restrictions. It also allows you to view videos without being tracked by Google.
The service is web-based and is used by replacing the "youtube.com" domain reference in a YouTube link with "hooktube.com." For example, the URL "https://www.youtube.com/watch?v=Aeud0QG2wu4" becomes "https://www.hooktube.com/watch?v=Aeud0QG2wu4."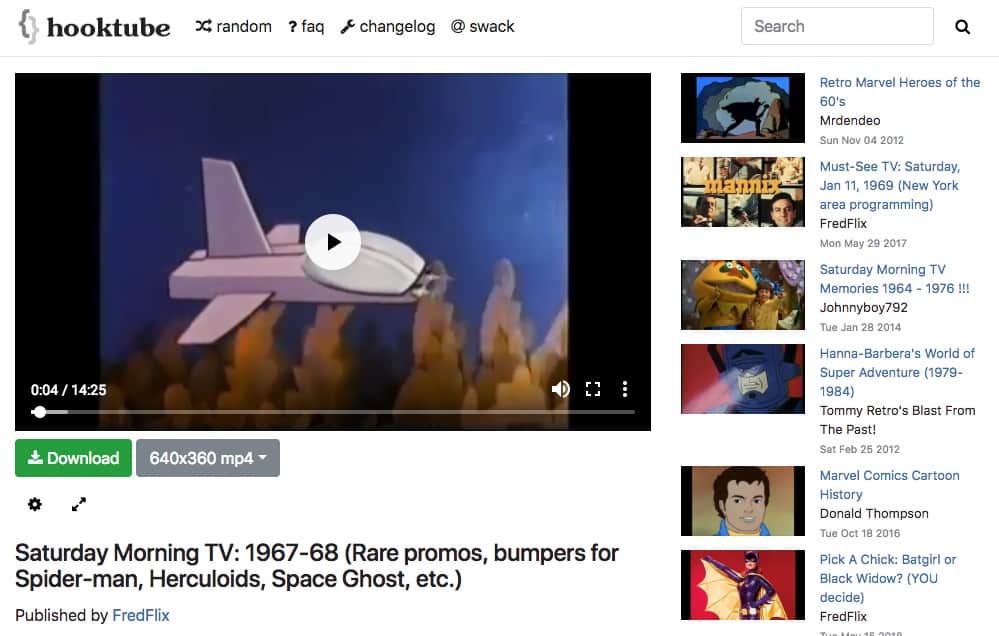 HookTube isn't recommended for use with video streams above 720p resolution, as HookTube can't play the audio for higher-definition streams, due to the audio being delivered separately by YouTube as an AAC audio stream.
Other YouTube Alternatives
If you're not married to the idea of only viewing YouTube content, you can also find plenty to watch at BitChute, Dailymotion, and Vimeo.
All of these services offer plenty of streaming video entertainment and are not connected to the privacy-invading Google machine.
Google Calendar Alternatives
Etar
Etar is an open-source Google Calendar app alternative for Android devices. The app is available in the Google Play Store or via F-Droid.
The app offers month, week, day, and agenda views. It's also material-designed, offers an agenda widget, and works with Google Calendar, Microsoft Exchange, and other calendar sources.
Etar doesn't necessarily offer you more privacy than Google, but it is a good alternative if you want to distance yourself from Google.
​aCalendar
aCalendar is another alternative to the Google Calendar app, and it's available for Android devices.
The app offers day, week, and month calendar views, an agenda view and widget, a full-screen widget, and a date widget. An added bonus is that birthdays and anniversaries include photos from your contacts list.
aCalendar offers a decent privacy policy, and it doesn't appear to save any of your data to the developer's servers. The developer says they collect no data from their users.
Google Docs Alternatives
Google Docs allows users to create and collaborate on word processor documents.
While Google Docs is an easy-to-use, yet powerful, alternative to high-priced options like Microsoft Word, there are the usual Google-related privacy concerns.
In this section, I'll offer up a few alternatives to Google Docs, which help you break away from Google, yet still provide collaborative capabilities for you and your team.
Zoho Writer
Zoho Writer is offered by Zoho, an online business suite that offers small business users online versions of CRM, email, accounting, invoicing, help desk, and office apps.
Zoho Writer allows multiple users to collaborate on documents in real-time. While the web-based app is easy to use, it offers powerful word processing features similar to those provided in Google Docs.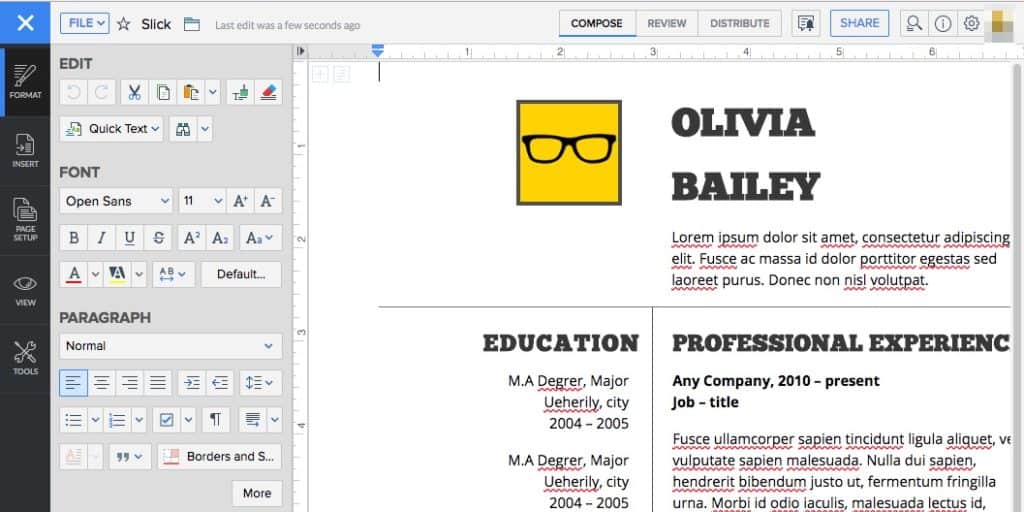 Zoho Writer can be used on desktop and mobile devices, making it easy to work on documents no matter where a user is located. If you have an internet connection, you'll have access to Zoho Writer.
Zoho Writer is completely free and completely private. Zoho says it doesn't sell users' info, read their documents, or clutter the screen with ads.
You will need to create a free Zoho account, which the company hopes will lead to a paid account, which is needed to use some of their premium services.
Zoho's privacy policy is available for your reading pleasure.
​Microsoft Word Online
Depending on your view of Microsoft's privacy policies, Microsoft Word Online could be a valid option for users looking to break away from Google's suffocating embrace.
Microsoft Word Online allows multiple users to collaborate on a Word document and offers the best Word document compatibility of any online solution (Surprise!).
Word Online is a component of a fully online version of the Microsoft Office suite of apps, and we'll be visiting the spreadsheet and presentation components of the suite in the sections following this one.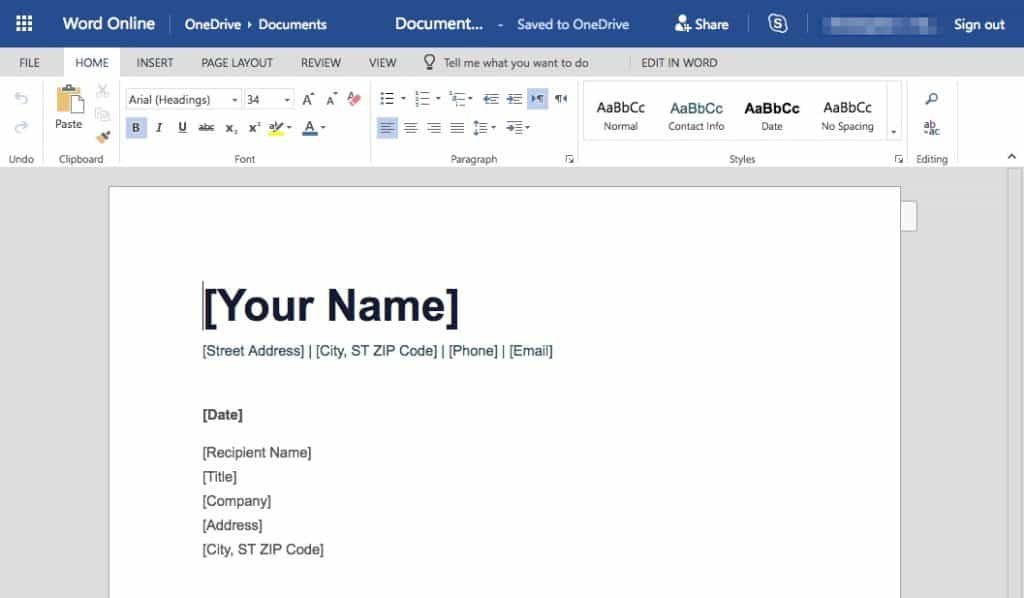 Microsoft Word Online is a web-based app, so it will run on any connected device that offers a browser, including Internet Explorer, Edge, Chrome, Safari, and Firefox. Oh, and even on Brave and the Tor Browser!
Google Sheets Alternative
Google Sheets is a powerful online spreadsheet app that offers the ability for multiple users to collaborate in real-time on spreadsheet documents.
The app provides a number of Excel-like features. However, the same old Google privacy-related issues you worry about in any of the Google apps listed above also apply to Google Sheets.
Zoho Sheet
Zoho Sheet is the free-to-use, web-based spreadsheet component of the online business app provider's online office suite.
Zoho Sheet allows multiple users to collaborate in real-time on spreadsheets, track progress with checklists, provide data validations, and more.
Zoho Sheet is fully compatible with Microsoft Excel files, as well as other spreadsheet formats, such as .ods, .csv and .tsv files. Spreadsheets can be downloaded as .pdf or .html files and can be printed.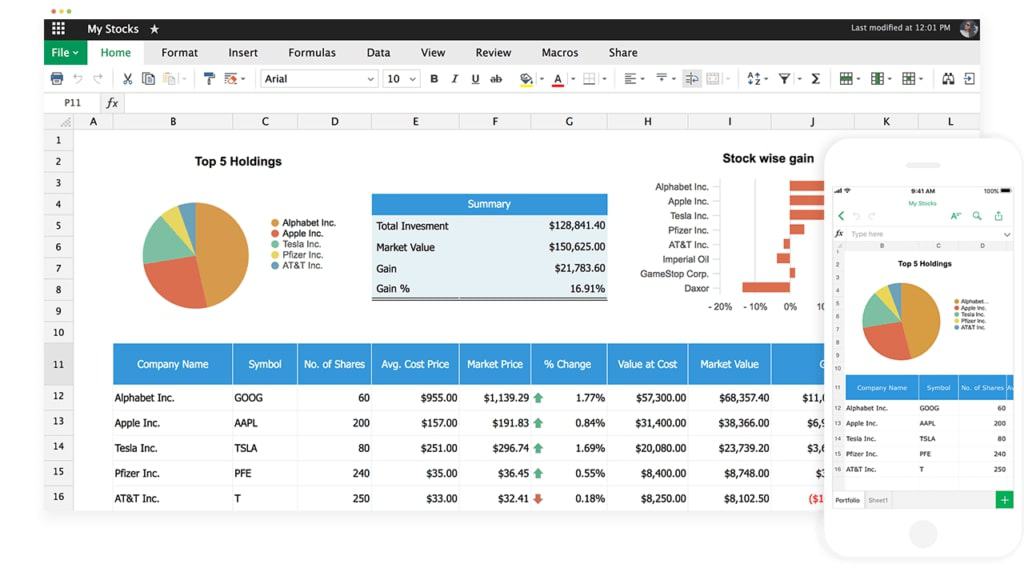 Zoho Sheet is a web-based app, making it easy to access from any internet-connected device that offers a modern web browser.
As with Zoho Writer, Zoho Sheet is free and private. Zoho's privacy policy indicates that it doesn't sell its users' information, view their spreadsheets, or fill the screen with ads. A free Zoho account is required for full collaboration features.
Microsoft Excel Online
Microsoft Excel Online is also subject to your opinion of Microsoft, but it makes for a valid option for teams that need to collaborate in real-time on spreadsheets, no matter where a user might be located.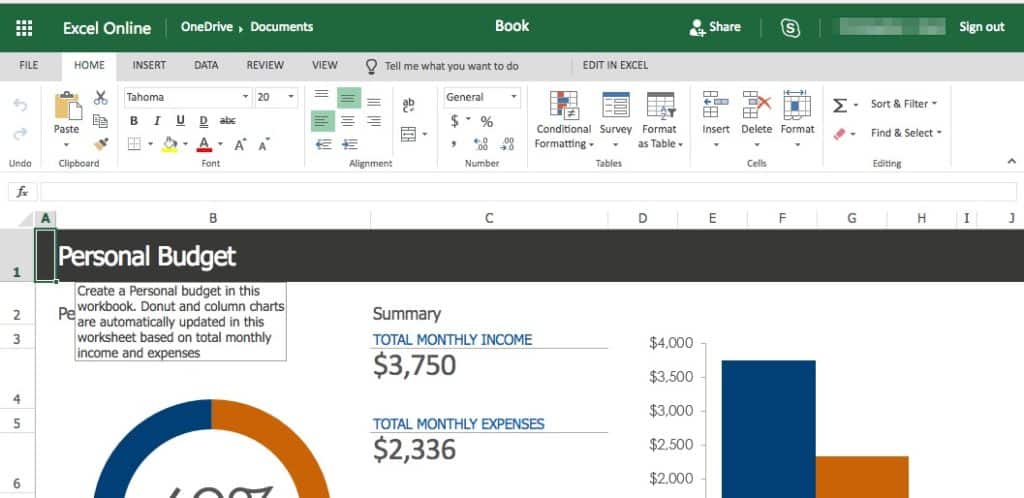 Excel Online allows multiple users to work simultaneously on an Excel spreadsheet, and the web-based app offers excellent Excel file format compatibility. Online Excel is part of Microsoft's Office suite of online apps.
Google Slides Alternatives
Google Slides allows users to create PowerPoint-like presentations via their web browser.
The app allows users to collaborate on presentations that can include a variety of presentation themes, videos, graphics, animations, and more.
As with any Google-owned app, there are privacy concerns
Zoho Show
Zoho Show is a free-to-use, web-based presentation component of Zoho's free online office suite. Zoho Show allows multiple users to collaborate in real-time on a PowerPoint-type presentation.
In addition to being fun to say, Zoho Show offers multiple spreadsheet themes, with the ability to add animations, graphics, video, live tweets, and more to a presentation. Users can view and edit a presentation from anywhere via any internet-connected device that boasts a modern web browser.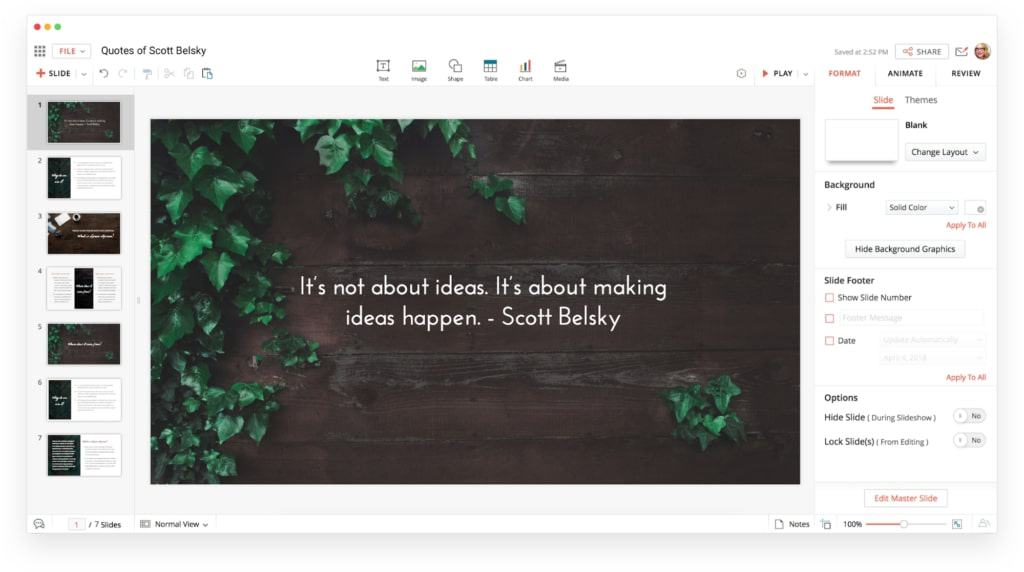 As with Zoho Writer and Zoho Sheet, Show is free to use, and the company respects your privacy by not selling any of your information and keeping their eyes off of your documents. Another plus is that there are no ads. A free Zoho account is required.
A bonus for Android TV users: you can display Zoho Show presentations on your Android TV-equipped television.
Microsoft PowerPoint Online
As with Word and Excel Online, Microsoft PowerPoint Online is a valid alternative to Google Slides only if you feel you can trust Microsoft.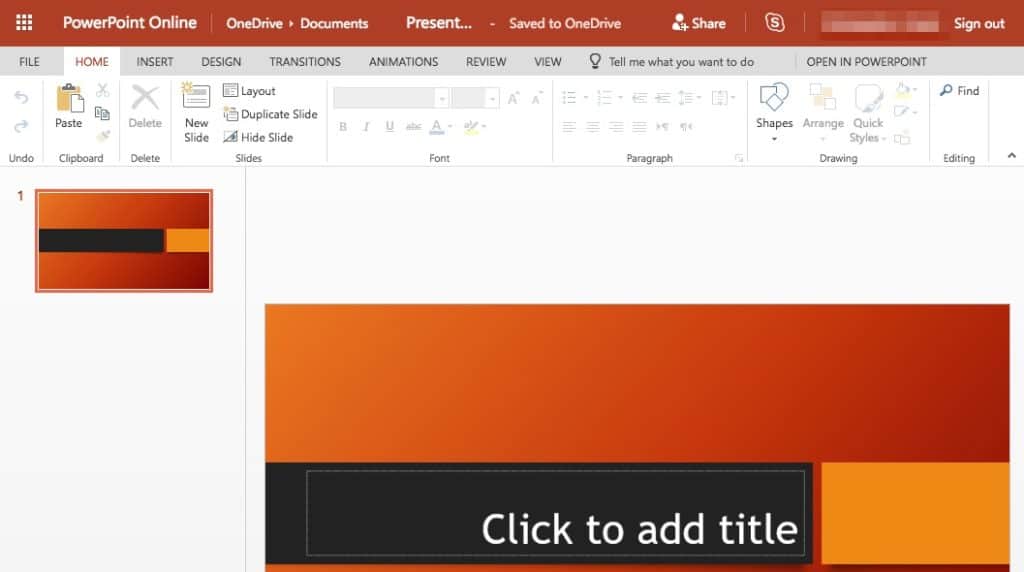 PowerPoint Online allows users to collaborate on PowerPoint presentations, with the usual inclusion of animations, graphics, videos and more. The browser-based application provides full PowerPoint file compatibility and can be used in any modern browser.
Other Options to Protect Your Online Privacy
In addition to breaking away from Google and its many apps and services, you also need to be aware of other parties on the web that are looking to monitor your online activities.
When I think of those who would love to monitor my online travels, the government immediately springs to mind.
If you're located in Australia, the United States, or the United Kingdom, keep in mind that your Internet Service Provider is either heavily encouraged or required to keep logs of your online activities, including the websites you visit, the files you download, and the folks you communicate with.
If you're in the United States, your ISP can legally sell your internet usage information to third parties, like advertisers. (Oh joy! More targeted ads!)
All of this is in addition to the personal information and tracking of online activities that social networks, like Facebook, perform. (UGH! Especially Facebook.)
I may sound like a broken record, but a Virtual Private Network is arguably the best tool available to keep your online activities, and your personal and business-related information, out of the hands of third parties.
A VPN encrypts your internet traffic, anonymizing your online antics while hiding your true IP address and physical location. Check out the VPN area of my website for more information, as well as reviews, of VPN providers.
Stay Under Google's Radar
If you're looking to stay under Google's radar, whether it's due to your desire to remain incognito on the net, to help safeguard your customers' privacy, or even to keep your "Black Hat" activities undercover, you'll want to take note of the alternatives to Google apps and services that I've covered here.
Remember, if you feel like somebody's watching you on the internet, it's because they are. (Rockwell was onto something there.)
Will you ever be able to completely shield your online activities from Google? No. But you can create a heckuva lot of blind spots for the search giant if you make use of the alternatives I've shared with you.
Google Alternatives FAQs
Are There Alternatives to All Google Products?
While there might not be exact one-to-one alternatives for all Google products, there is a very good chance that an alternative is available for your favorite Google product.
Why Use a Google Alternative?
Google makes its money by selling information about your activities to advertisers and other nosy parties. If you're truly concerned about preserving your privacy, you'll find an alternative to the products offered by Google.