Astrill VPN provides excellent connection speeds, top-notch privacy protection, outstanding customer support, decent streaming service access and 5 simultaneous connections.

The provider will make for an attractive option for users looking for fast connections that will keep their online activities hidden away.
---
ExpressVPN provides reliable VPN service with top-notch streaming service access, excellent global server coverage, global access to P2P file sharing and much more.

This provider is the best choice I've found for film lovers, gamers and those users looking to keep their connections well protected.
---
How to Choose a VPN
In this article, I'll provide a head-to-head overview of Astrill VPN and ExpressVPN. By the end, you should end up with enough information to make an informed decision as to which provider is the right one for you.
I'll take a look at 10 critical features that any user should consider before buying a VPN. I will explain why each feature is critical, explain how well both providers performed in the service category and declare a winner.
At the end, I'll tally up the scores and declare an overall head-to-head victor.
Connection Speed
On today's internet, speed is everything. That means users should look for a VPN service that slows down your internet connection as little as possible.
When we perform our VPN download speed test, we use the Speedtest app.
We perform the tests in the following manner:
Our testing server is located in North America, runs Windows and has a gigabit Ethernet connection.
A team of 3 users connect 3 times per day – morning, noon and night – to VPN servers in the United Kingdom, the United States and Hong Kong. We do this for 3 days.
We use the VPN providers' Windows apps for testing. The apps are configured to connect via the OpenVPN protocol over UDP.
We connect to each server, then run the Speedtest app. We record the download speed, then exit the Speedtest app and restart it for each test.
Once the speed measurements have been recorded, we calculate an average download speed for each provider.
Average Connection Speeds
Astrill's average connection speeds of 92.58 Mbps are more than up to most any online activity, including gaming, video streaming and file sharing.
ExpressVPN's average download speeds are 106.78 Mbps. Speed like that can handle any online activity without breaking a sweat, including viewing 4K video streams.
The connection speeds you'll experience when using a VPN will definitely differ from what we see when we use that same VPN. That's due to the differences in our locations, which VPN server you select and the usual speeds that ISP provides.
Average Connection Speed Winner: ExpressVPN
| | | |
| --- | --- | --- |
| Provider | Avg. Connection Speed | Link |
| Astrill VPN | 92.58 Mbps | Visit Site |
| ExpressVPN | 106.78 Mbps | Visit Site |
Pricing
Both Astrill and ExpressVPN will never be mistaken for budget-priced VPN providers. In fact, both providers' regular subscription prices are some of the most expensive in the industry.
Astrill VPN's monthly charge is quite a bit more than ExpressVPN's monthly tariff. Their annual subscription is more expensive than ExpressVPN by just a few pennies.
When considering whether or not a VPN provider is worth its asking price, consider their performance across all of the provider's services. Doing so will give you an idea of the provider's return on investment.
You may have noticed that I don't list any specific prices in this section, even though it's the "Pricing" section. That's because VPN providers change their pricing and offer special deals more often than Charlie Brown says "Good Grief!" Always visit a VPN provider's website for their latest pricing and deals.
Pricing Winner: ExpressVPN
| | | |
| --- | --- | --- |
| Provider | Money-Back Guarantee Period | Link |
| Astrill VPN | 7 Days or a 7-Day Free Trial | Visit Site |
| ExpressVPN | 30 Days | Visit Site |
Privacy
When you're connected to the internet – and you're almost always connected, whether you think you are or not – someone is trying to monitor your activities.
Interested folks include your ISP, who wants to sell your browsing habits to advertisers, and hackers, who want to sell your credit card number to the highest bidder.
That's why finding a VPN that respects your online privacy is highly important.
Keep the following in mind when researching a provider's privacy protections:
Where is the provider located? Is it a privacy-friendly country?
Do they keep any records of their customers' online activities?
Do they offer anonymous payment options?
British Virgin Islands-based ExpressVPN takes advantage of their government's lack of data retention requirements, recording no information about their users' online antics. Bitcoin is happily accepted here.
Astrill VPN is based in the country of Seychelles, which has no data retention requirements. Astrill keeps no logs of any kind related to customers' online activities. Bitcoin is available as a payment option.
Privacy Winner: Tied!
Features
When you're researching any VPN provider, you'll want to consider all of the features the provider offers. Collecting the information will allow you to make an informed decision as to which VPN is the best one for your needs.
We'll be taking a look at the features that both VPN services offer and reveal how well both of them perform in each category.
Security
One of the most important reasons to subscribe to a VPN service is for their ability to keep your online activities undercover and your personal data safe.
A VPN accomplishes this by encrypting your internet connection and by offering other safety features to prevent your online activities from being accidentally revealed.
ExpressVPN offers government-level AES-256 encryption, making use of OpenVPN with TCP/UDP, PPTP, SSTP and L2TP/IPSec protocols. Additional security features include kill switch protection, DNS leak protection and IPv6 leak protection.
Astrill VPN provides AES-256 encryption with OpenVPN with TCP/UDP, StealthVPN, OpenWeb, L2TP, IPSec and SSTP protocols. The provider's additional features include kill switch protection, Smart Mode (which makes your VPN traffic look like regular traffic), and DNS leak and IPv6 leak protection.
Security Winner: It's a Tie!
Simultaneous Connections
Owners of small businesses, heads of large families, or users with just a buttload of devices will appreciate a VPN service that allows multiple simultaneous connections on the same set of login credentials.
Astrill VPN and ExpressVPN both allow up to 5 connections at once.
Simultaneous Connections Winner: Tied!
Streaming Support
I would be willing to bet that everyone reading this has a subscription to Netflix or another streaming service. (Heck, my in-laws are in their 80s, and they have a Netflix subscription. Okay, the only show they watch is Longmire, but they have a subscription all the same.)
Due to the content deals they make with television and movie studios, Netflix and other streaming services are required to restrict viewing of said content to the borders of certain countries. So while Longmire is available in the U.S., viewers in other countries might miss out on all of that dealing of western justice.
That's why a VPN's ability to open access to blocked streaming content is so valuable.
Astrill VPN provides access to Netflix (U.S. and U.K.), Spotify, BBC iPlayer, YouTube, HBO and Hulu.
ExpressVPN lists 16 streaming services that it can unblock. The services include YouTube, BBC iPlayer, Netflix, Spotify, Hulu, Amazon Prime Video, HBO, Showtime, Zattoo, Crackle, Sling TV, DAZN, Sky Go, Vudu, Hotstar, ESPN, Disney+ and iTV Hub.
While it wasn't possible to test every one of the streaming services listed above, I do confirm that the services I subscribe to worked well with both providers. Those services include Netflix, Hulu, Amazon Prime Video, BBC iPlayer and others.
Streaming Support Winner: ExpressVPN
| | | | |
| --- | --- | --- | --- |
| Provider | # of U.S. Streaming Services VPN Unblocks | # of International Services VPN Unblocks | Link |
| ExpressVPN | 12+ | 7+ | Visit Site |
| Astrill VPN | 5 | 2 | Visit Site |
BitTorrent Support
Peer-to-peer file sharing (also known as P2P or BitTorrent) is a popular online activity among many internet users. While the technology itself is legal, some of the uses for the technology are not.
Many individuals and businesses use P2P to legally share files. The technology is an excellent way to share files for those who don't have access to expensive file servers. However, many folks also use the technology to illegally share copyrighted files, such as games, music and movies.
The illegal use of the tech has led movie studios, record companies and other firms to pressure ISPs to either throttle or outright block P2P activities on their networks.
A VPN's encrypted protection for your internet connection keeps your online activities, such as P2P, from being detected and blocked.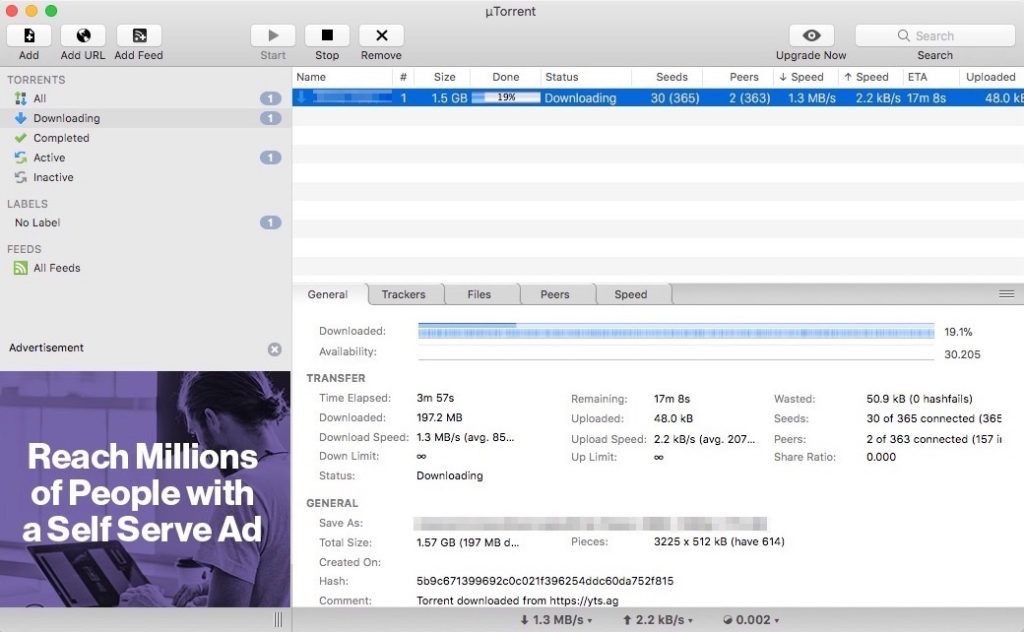 ExpressVPN allows file sharing on all of its servers and even offers tips on how to improve your P2P sharing.
Astrill VPN allows file sharing on servers located in 15 countries. (They're designated in the app's server list by a yellow star.)
BitTorrenting Winner: ExpressVPN
| | | |
| --- | --- | --- |
| Provider | # of Countries Where VPN Allows BitTorrents | Link |
| ExpressVPN | 94 (all of them) | Visit Site |
| Astrill VPN | 15 | Visit Site |
Global Server Coverage
Comprehensive global server coverage is vital if you're looking to use your VPN to unlock streaming or gaming content located in other parts of the world. The more server locations, the better.
Astrill VPN has 340+ VPN servers in 64 countries.
Meanwhile, ExpressVPN has 3,000+ servers stationed in 94 countries around the world.
Global Server Coverage Winner: ExpressVPN
Multi-Platform Support
Computers, tablets, smartphones, toasters – they're all connected to the internet. That means optimal multi-platform support from your VPN provider is vital.
Astrill VPN offers native apps for Windows, macOS, Linux, Android and iOS devices. Support for DD-WRT routers is available. No browser extensions are available. The provider sells pre-configured routers.
ExpressVPN's multi-platform support includes options for the Windows, macOS, iOS, Android, Linux, Chrome OS, Nook and Amazon Fire platforms. Chrome and Firefox browser extensions are also available. The provider also offers support for a large number of routers.
ExpressVPN users can also purchase pre-configured routers for the VPN service via the FlashRouters.com website.
Multi-Platform Support Winner: ExpressVPN
| | | | |
| --- | --- | --- | --- |
| Provider | Platforms Supported | Browser Extensions? | Link |
| ExpressVPN | 8 | Yes (Chrome, Firefox) | Visit Site |
| Astrill VPN | 5 | No | Visit Site |
Customer Support
While both providers offer reliable connections delivered by easy-to-use apps, it's likely that you'll need some handholding now and then. That's when having access to responsive customer support will come in handy.
Astrill VPN's always-available support options include 24/7 live support chat, email support, FAQs and setup manuals.
ExpressVPN's customer support offering is also an "on all of the time" kind of thing, with 24/7 live support chat, a trouble ticket system, email support and a searchable support library.
Customer Support Winner: It's a Tie!
And The Winner Is…
ExpressVPN turned out to be the top performer in this head-to-head playoff.

ExpressVPN performed best in the connection speed, pricing, streaming support, global server coverage, multi-platform support and BitTorrent support categories.
Astrill VPN was not an outright winner in any of the categories, but it did pull off a tie in the privacy, security, simultaneous connections and customer support arenas.
ExpressVPN is the best overall option to protect and enhance your internet connection.